The National Sports Academy, Khuman Lampak, boosted the confidence of its medal winning weightlifter N Tomchou Meetei with a warm welcome at the Imphal International Airport on Sunday.
Led by NSA Principal, S Ranbir Singh along with faculty members and family members, Tomchou was received with warmth and was garlanded with blessings upon landing at the Imphal Airport early Sunday.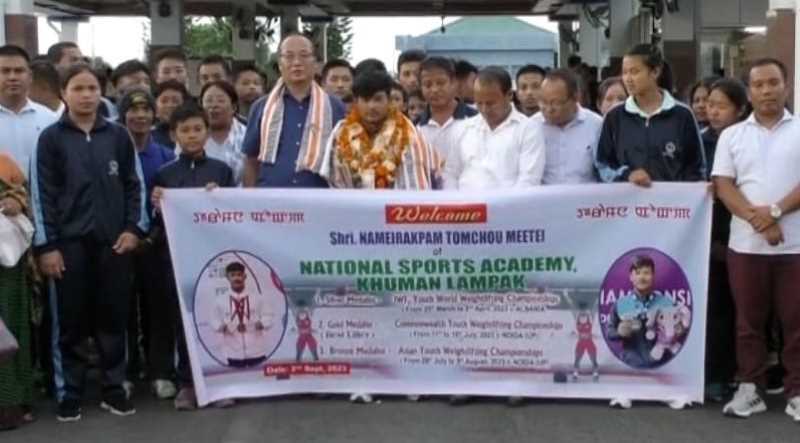 The NSA weightlifter Nameirakpam Tomchou Meetei had recently participated in a series of International Championships in 2023 bagging one gold, two silver and one bronze medals from IWF Youth World, Commonwealth Youth and Asian Youth Weightlifting in the weight category of 55 kg.
Advertisement
Tomchou had participated in Commonwealth Youth Weightlifting Championship held at Noida, UP in July bagging a Gold with the best lifter title. He lifted a total of 229 kg, managing 98 kg in Snatch and 131 kg in Clean & Jerk.
Also Read: Asian Games 2023: 43 Manipur athletes to compete in nine events
He bagged a silver and bronze medal in Asian Youth Weightlifting Championship held at Noida, UP from July 28 to August 5 with a total lift of 229 kg for Silver and 228 kg for bronze medals.
In the IWF Youth World Weightlifting Championship at Durres, Albania, from March 25 to April 2, he won a silver medal with a total lift of 234 kg.
Advertisement
Tomchou said, 'I intend to do well in the future championship including the National Games at Goa. At the moment, I am nursing some injury from the championship, hope to overcome it soon'.
It can be mentioned that Tomchou had earlier claimed five medals including a gold, three silver and one bronze medals since 2019. Tomchou Meetei hails from Ngairangbam Awang Leikai, Imphal West and is the son of N. Amuba Meetei and Ibemu Devi. He took his training under coach Ch. Premita Devi and T. Bobo Singh of the Academy.
Also Read: Manipur humble Goa by 11-0 goals in Hero Sub-Junior National Football 2023-24
Advertisement