Neglected by the authority concerned, the populace of Khamphasom tang, in Manipur's Ukhrul district on Wednesday launched a drainage repairing drive at the locality, covering around 4 km. 
The locals initiated the drive as the authority concerned failed to fulfill their promises, Khamphasom tang road development committee convenor Raingam said. 
"The state government had assured us to address our grievances. However, much to our dismay, our genuine concerns have been neglected as their promises remain a mere lip service," Raingam said, adding the locals decided to start the drainage repair work collectively as the drainage along the road needs repair urgently.  
Also speaking on the sideline of the social work, Khamphasom tang chairman Betterson Shimrah said that the localities began the drainage repairing drive to maintain cleanliness, prevent unwanted dirt overflowing during the rainy season and ensure hassle-free movement for people and vehicles. 
Advertisement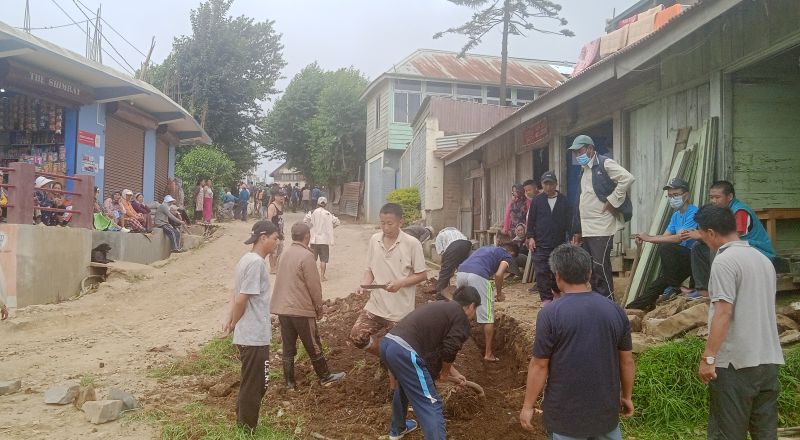 (PHOTO: IFP)
To undertake this initiative, a sum of Rs 1,000 each is collected from the Khaphasom tang households. The locality has 1,400 households. However, only around 100 households paid the full amount. Majority of the households gave Rs 100 and Rs 200 rupees only, Shimrah said. 
Highlighting their objective, Shimrah informed that the drive that will cover around 4 km stretch will be carried out in five phases and will include drainage, sinking and earth fillings. 
In the first phase, repairing will begin from the locality tank near SP quarter till traffic point, Phungreitang near Ava market at an estimated cost of Rs 30 lakh, Shimrah informed. 
Advertisement
Stating that electors of the three MLAs of Ukhrul and Kamjong districts are settled at Khamphasom tang, Shimrah added that said they will also approach Minister Khashim Vashum, MLA Ram Muivah and MLA Leishiyo Keishing of Phungyar kendra to look into their grievances. 
Advertisement