Manipur hill districts, includingTamenglong, Senapati, Kangpokpi and Noney, are reeling under the massive devastation caused by incessant rainfall. Several places remained cut off from the rest of the state as massive landslides and flash flood have damaged roads, bridges, houses, forest and paddy fields in the hill region. The region is also hit by power outages due to the inclement weather condition and telecom connectivity has been severely affected as well.
All roads connecting Tamenglong to other districts and the state capital have been cut off by landslides at different locations. Landslides continued to occur along Tamenglong-Imphal via Khoupum Road, which is used as an alternative to Khongsang road connecting Tamenglong and Imphal that remained disconnected due to the collapse of the Irang bridge.
The route from Tamenglong to Imphal via Bhalok has also become non-functional due to floods and mudslides which occurred between Bhalok and Rangkhung village. Another route from Tamenglong-Tamei to Imphal has also been blocked by landslides at various locations.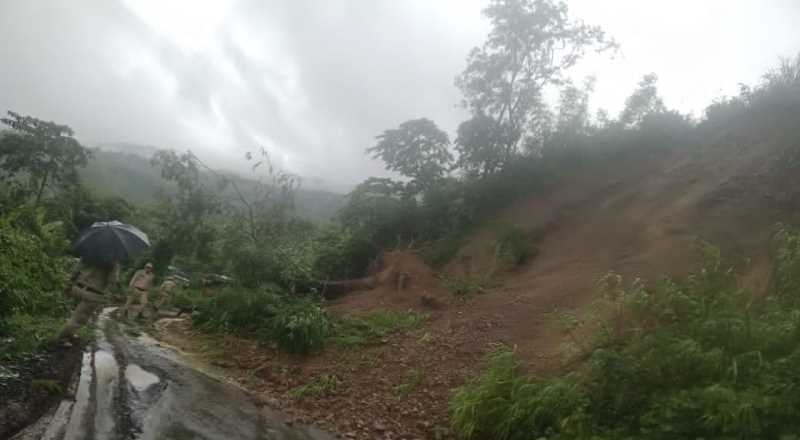 (PHOTO: Daniel Kamei_IFP)
A massive landslide at Kaiphundai village along NH-37 Imphal-Jiribam road has resulted in disruptions of vehicular movement. Landslides and mudslides also occurred on Imphal-Jiribam Road near Longkao village and in between Kambiron and Nungba and Khongshang and Taobam village
Several landslides and mudslides were also reported at many locations in Imphal-Noney section.
The alternate route that connects NH-37 ie Bishnupur-Khoupum-Rengpang road is also blocked due to landslides that occurred between Taudaijang and Thingdingmun and Taudaijang and Rengpang village and Rengpang and Khongsang as well.
All major rivers like Ijei Iril, Irang, Barak, Makru and Leimatak are flowing above danger level. Low lying areas have been flooded and submerged. Inter-village roads were also disconnected due to landslides at many locations.
A massive landslide also occurred at a residential area in Tamenglong headquarters, at New Salem, Ward No IV, destroying one house. However, no casualty was reported.
Is the rain devastation impact of climate change?
Traditional belief: