The third session of the 12th Manipur Legislative Assembly started with the governor highlighting the various developments and achievements of the Bharatiya Janata Party (BJP)-led government in the state.
Addressing the House, Ganesan said that the law-and-order situation and security environment in the state has improved significantly in the year 2022. As many as 75 insurgents surrendered, 309 extremists were arrested and various arms, ammunition and others recovered in the previous year, he said.
Ganesan also said the state government and the Central government have entered into a cessation of operation agreement with the underground outfit Zeliangrong United Front (ZUF) that has been active for more than a decade.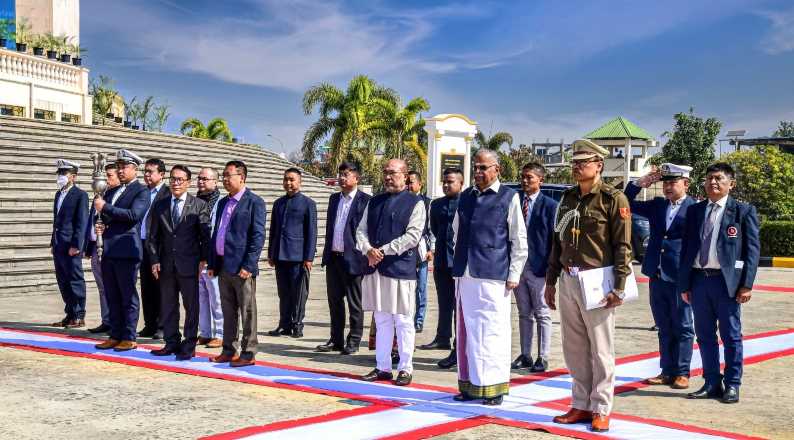 (PHOTO: IFP)
With the improvement in the security scenario in the state, the governor informed the House that 15 police stations in six different districts of the state have been excluded from the disturbed area notification with effect from April 1, 2022. The Armed Forces Special Powers Act has been revoked from these areas, the governor added.
Ganesan said for more improvement in law and order in Manipur, the Central government approved construction of 34 Police Outposts along the India-Myanmar International Border and six police outposts along the National Highway-37 (Imphal-Jiribam road) with a cost of Rs 80.40 crore under the Scheme for Special Assistance to States. Of these, construction of 12 border police outposts and three police outposts along the NH-37 are in progress.
The governor also said that to root out the menace of illegal drugs and to protect the youth, the government is continuing its fight against drugs under the initiative of 'War on Drugs 2.0'.
In 2022, 3,517 acres of illicit poppy cultivation were destroyed in different areas of the state and 2,567 kg of contraband drugs were disposed of. Over 2,384 kg of drugs consisting of heroin, brown sugar, opium, amphetamine, ganja, methamphetamine, spasmo proxivon and nearly 40,000 bottles of cough syrup were seized. A total 504 cases were registered under the NDPS Act and 32 persons were convicted. In all, 84 persons were detained under PIT NDPS Act, the governor told the house.
Ganesan also said, among the 3,629 FIR cases registered under different sections of law in 2022, sensitive cases relating to crime against women and children were given top priority in investigation. In all, 91 cases relating to crime against women and 52 cases under POCSO Act were registered, the governor added.
Advertisement
For easy access to the common people, the government set-up e-Sewa Kendra in the High Court and District Court Complexes, he added.
Regarding the finance and planning, Ganesan said Tadubi Sub-Treasury, which was recently opened, has been made functional for e-payment, making all 19 Treasuries e-payment enabled, via e-Kuber platform. To make the State Budget widely accessible, a budget application for public access was launched.
The governor also informed that the government has been taking various steps towards resource mobilization to increase its own tax revenue. The State's own tax revenue increased from Rs 586 crore in financial year 2017-18 to Rs 1,649 crore in financial year 2021-22. This is an average annual growth of 23 per cent during the period, mainly on account of growth in collection of State GST, said the Governor.
Ganesan said in the past year, five 33/11 KV sub-stations at Ibudhou Marjing, Leimapokpam, Hiyangthang, Khangabok Moirangpalli and Heirok were operationalized. Various existing 132/33 and 33/11 KV sub-stations were augmented with additional capacity.
At present, 21 new 33/11 KV sub-stations and 2 new 132/33 kV Sub- Stations are under construction. For safe and secure grid operation and real time power supply management, a wide network of Fiber Optics cable of about 2,000 km is being laid across the state.
State Load Despatch Centre, Manipur was conferred the first ever "LDC Excellence Award" under the category of Emerging State Load Despatch Centres at the 9th International Conference on Power Systems-2021.
For the first time under the Natural Farming, Indigenous Cow Mela was organized in Bishnupur district. More such cow melas will be organized, the governor said, adding that 25 veterinary hospitals and 58 veterinary dispensaries were renovated or newly constructed in 2022. Additional eight veterinary hospitals were also constructed under the RIDF and the NABARD, he added.
As a part of the initiative of the present government under the "War on Drugs 2.0", alternative livelihood opportunities through cultivation of quality horticultural crops were provided. In the previous year, 355 poppy farmers were brought under Organic Farming.
During 2021-22, 5 Model Horticulture Farms of 20 hectare each were set up at different locations under the scheme of "Cultivation of Horticulture crops as an alternative to poppy cultivation in Hill Areas", benefitting 100 farmers.
During 2022-23 also, high value crops along with Hybrid winter vegetable seeds were distributed to poppy farmers who had voluntarily ceased cultivation of poppy, covering 985 acre and benefitting 600 farmers, he informed.
Advertisement
The governor also informed that the ongoing Thoubal Multipurpose Project, with the revised total approved cost of Rs 2,107.45 crore, has been taken up with Central Assistance of Accelerated Irrigation Benefits Programme to create an Irrigation Potential of 35,160 hectare, 10 MGD of water Supply and 7.5 MW of Power generation. The Project is targeted for completion by March, 2023 in all respects.
He said Integrated Sewerage System for Imphal City Phase-Il at a cost of Rs 1,255.84 crore will be taken up with New Development Bank funding. The project will cover 16 IMC wards in Imphal City, he informed.
Continuing the address, the Governor said last year Thoubal District won second position in Best Performing District Category under NashaMukt Bharat Abhiyan in India. As a first of its kind in the country, one dedicated drug de-addiction centre for transgender through PPP mode and two dedicated children's homes for transgender through NGOs was started.
The government also signed a MoU with Amazon under Amazon Karigar to sell handloom and handicraft products of Manipur through Amazon portal. The e-catalogue of handloom and handicrafts products was also launched by Manipur Handloom and Handicrafts Development Corporation Ltd, he said.
The Governor said last year Manipur Tourism was conferred the "Best Poster by State Government Award 2022" at the 37th IATO Annual convention.
The present government, since last year, is implementing e-Office across the entire State, ensuring greater transparency and efficient delivery of Government services, he added.
During the current year, Vigilance and Anti-Corruption Department registered 11 FIR cases. 67 Preliminary Enquiry and Verification cases were registered during the year. 'Online Vigilance Certificate Portal' was launched to enable departments to obtain online Vigilance Clearance, required at the time of retirement, promotion, awards, etc. and thus improving transparency and service delivery, said the Governor.
The Governor also highlighted other achievements of different departments made by the present government during the last year.
Later, Health Minister Sapam Rajan moved a motion of appreciation of the Governor's address which was seconded by NPF MLA Awangbow Newmai.
Advertisement