Northeast
Manipur government earmarks Rs 1.30 crore for renovation of Nupi Lal Memorial Complex in Imphal
Nupi Lal Day 2021: Chief Minister N Biren hailed relentless contribution of Manipuri women towards development of Manipur
Updated on 13 Dec 2021, 5:47 pm
In commemoration of the Manipuri women martyrs of Nupi Lal which took place on December 12, 1939, a state-level Nupi Lal observation was organised by paying floral tributes at Nupi Lal Complex, Imphal on Sunday.
Speaking on the occasion, Chief Minister N Biren Singh as chief guest announced that a sum of Rs 1.30 crore has been kept reserved in the budget to renovate the present Nupi Lal memorial complex with modern facilities.
For the welfare of women, the state government has been taking various initiatives including providing financial assistance to the women vendors, women street vendors and others. "Women of the state had been doing so much and suffering a lot to save Manipur, and the time has come to give them a peaceful life," he said.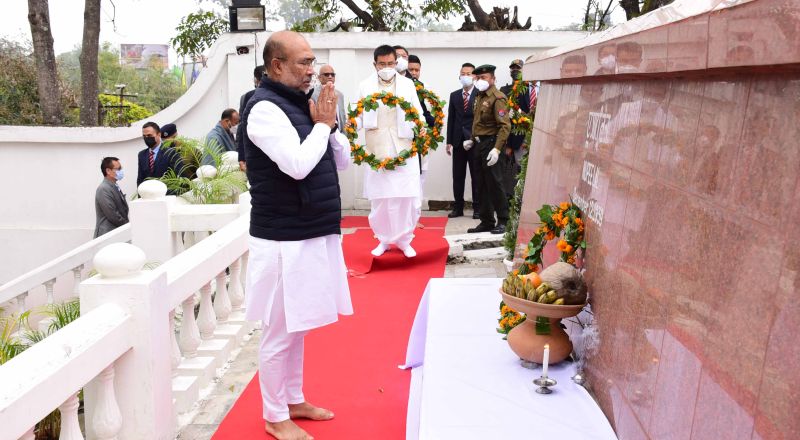 Under the present government, the law and order situation has improved as compared to what it used to be four-and-half-years before, he added.
He further said the people can enjoy freedom of speech and expression under article 19 (1) (a) but they should also understand that as per article 19(2), there are certain restrictions upon the use of 19(1)(a). He said any person can raise criticism without using anti-national words. "People should not behave like 'waikhu' (crab). They should rather help each other out. There is no place in society for those who have the mentality of crabs," he remarked.
Without discipline, a society or a state can never develop. One needs to maintain discipline from childhood, otherwise the people of the state are likely to lose discipline, Biren asserted.
He further said the state government is planning to organise Nupi Lal observation without blocking the national highway-2 in the coming year ahead. From next year, the formal function may be organised near Sahid Minar ground though floral tributes are paid at Nupi Lal memorial complex, he added.
First published:12 Dec 2021, 4:08 pm
Tags: