The Manipur government has given the approval to implement the 7th Pay (ROP-2019) to electricity employees, said co-convenor of JAC of Manipur Electricity Employees' Union (MEEU), Power Engineers Services Association (PESA) and MSPDCL Officers Association (MOA) Soram Sunnyboy on Friday.
"We will try to restore the power outage that occurred in various areas of the state at maximum," he said, responding to the development.
On the third day of the ongoing indefinite cease-work strike of employees of the Power department, most of the area of Imphal city was hit by power outage the whole day. Power cuts occurred at various areas of the state, including secretariat offices of both blocks; however, the employees of secretariat continued their work with back-up power supply.
In continuation of the ongoing strike, sit-in-protest was staged at various areas of the state, including the main gate of power house, Keishampat, Imphal.
ALSO READ: 7th Pay: Manipur Electricity employees lock divisional offices; to intensify stir
Advertisement
"If we want then we can immediately shut down all the power supply but the JAC never encourages such steps," said Sunnyboy.
He also clarified that the JAC did not instruct or command any employees of the department to shut down the power. Power outages can occur due to falling of trees on power lines or due to short circuits and there are various reasons for power outages, he said.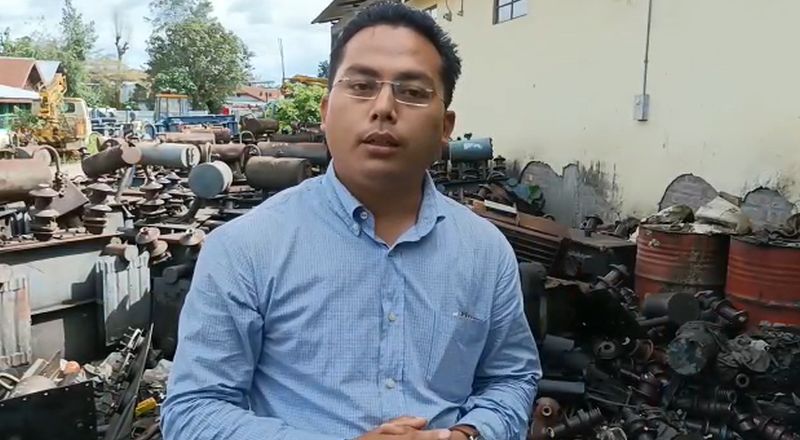 (JAC co-convernor Soram Sunnyboy)
The sit-in-protest was continued till late Friday and to console the agitators, DC Imphal West Th Kirankumar came at power house, Keishampat. The protestors along with Kirankumar talked with state power Minister Th Biswajit over a phone call.
Later, commissioner (power) Kh Raghumani, managing director of both MSPDCL and MSPCL, also came to the power house, Keishampat and along with the JAC leaders and Imphal West DC went to the secretariat office.
Advertisement
Sunnyboy told the Imphal Free Press over the phone that the JAC leaders have received the approval letter signed by the chief secretary regarding implementation of 7th pay (ROP-2019).
As the government has shown the approval letter, the employees of the Power department will start restoring power outages which occurred in various areas of the state.
ALSO READ: Lack of public awareness, infrastructure, budget, staff posing major challenges to Tamenglong electricity department
He added that as the government is yet to announce the implementation date for 7th Pay (ROP-2019), sit-in-protests will continue till September 20. If the government failed to implement ROP-2019 by the mentioned date, then agitations will resume, said Sunnyboy.
Meanwhile, MP Rajya Sabha, took to Twitter to state that "BJP in power in Manipur but people of Manipur have been without power all day today. And to think that in 2016, the Union Govt had praised Congress govt for its power sector reforms."
Advertisement