Manipur Pradesh Congress Committee (MPCC) president K Meghachandra along with other party leaders on Tuesday conducted an inspection tour at the road connecting Galkapkot to Gamhui village of Thanlon sub division in Churachandpur district.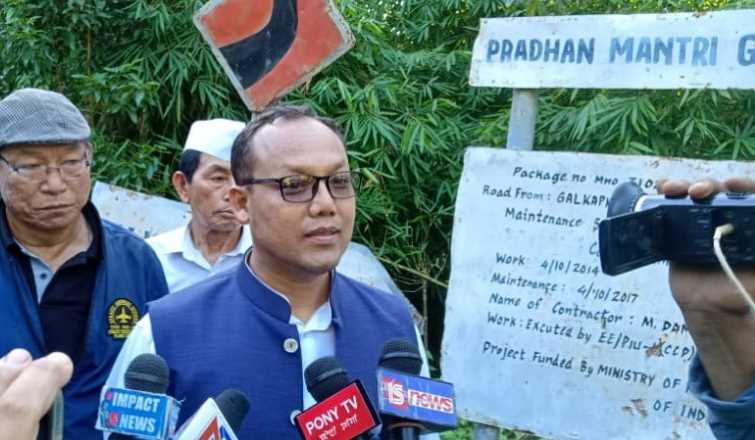 The MPCC team conducted the inspection of the road which was constructed under PMGSY, after a complaint was made by the Gangte Tribe Council (GTC) that the construction certificate of the road was issued in 2020 without completing the road development work.
The team began the inspection after paying homage to Sardar Vallabhbhai Patel on his 147th birth anniversary and to Indira Gandhi on her 38th death anniversary at the residence of former minister T Manga Vaiphei at Red Cross Road.
Advertisement
According to the GTC complaint, the construction of the 26-km-long road costs Rs 8.29 crore and was divided into three phases, with the first phase consisting of only partial black-topping of the road while the second and third phases were still incomplete.
In the inspection, Meghachandra, who is also MLA of Wangkhem assembly constituency, accused the officials concerned of fabricating documents regarding the completion of the construction.
"The road construction is a calculated loot of public money as all the money had been withdrawn by contractor M Dama Vaiphei," he added.
The MLA assured that the MPCC will raise the matter to the higher authorities and urged for resignation of the officials concerned.
Advertisement
Meanwhile, GTC organised a reception event of the MPCC team at Galkapkot Village, where GTC spokesperson Minthang extended acknowledgement to the team for the initiative.
At the event, the MPCC president stated that the party will leave no stone unturned and solve the issue within two to three months.
"The law of the land will take its due course and the perpetrators will be sent to jail," he added. 
Advertisement