The ongoing agitation by Manipur government college teachers demanding the implementation of UGC 7th Pay and Regulation, 2018 entered day eight on Saturday. The sit-in protest demonstration, however, failed to draw any positive response from the government.
A sit-in protest cum meeting of the college teachers of Manipur was held on Saturday in front of the Central Hall of the DM College of Science, Imphal. The meeting was held under the banner of the Federation of Government College Teachers' Association, Manipur (FEGOCTA).
Advertisement
During the protest cum meeting, several questions were raised by the college teachers regarding the failure of the state government to implement the UGC 7th Pay when college teachers of other states are already enjoying the pay scale.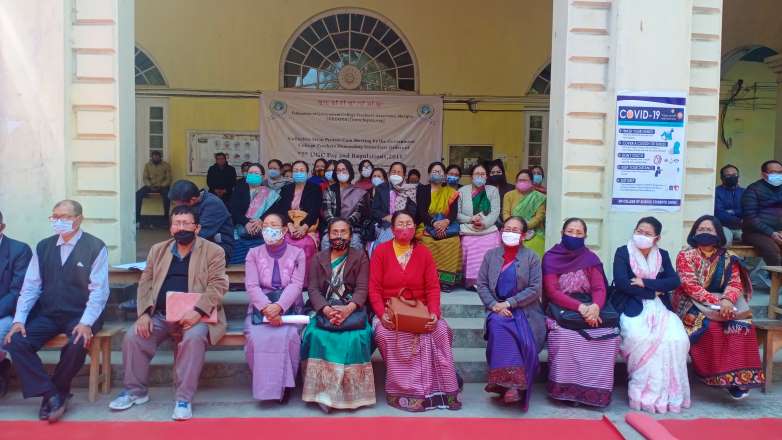 It is really unfortunate and shocking that the government still remain a mute spectator in the demands for implementation of the UGC 7th Pay though the college teachers has been agitating since the past eight days, said FEGOCTA general secretary N Somorendro while speaking to the media.
The national policy of UGC 7th Pay and Regulations, 2018 was approved by the Union cabinet headed by Prime Minister Narendra Modi three years ago and has been approved by the state cabinet six months ago. However, the state has not passed the order for 7th Pay till date, he said.
Advertisement
FEGOCTA had repeatedly requested the government to issue the orders of 7th UGC Pay for six months moreover the state government had given written assurance thrice for implementing the pay scale, he continued.
Somorendro said considering the interest and career of the students, FEGOCTA refrained from taking up protest which may affect the college academic atmosphere.
However, failure to address the grievances may make FEGOCTA take up an intense mode of protest such as boycotting classes, cautioned the general secretary.
Advertisement