Manipur Chief Minister N Biren Singh on Wednesday called upon all UG groups based in Manipur and operating in Myanmar to come forward to negotiate with the Central government for peace talks, as 14 cadres of the United Tribal Liberation Army (UTLA)-James laid down arms. 
"I will take up all possible initiatives as a mediator. Trust me," he said, adding that as "assured by Union Home Minister Amit Shah during his last election campaign in Manipur, no single FIR will be lodged against any UG cadre who are ready to lay down arms except for those who committed hideous crime". 
CM Biren was addressing the "Homecoming ceremony of cadres of United Tribal Liberation Army (UTLA)-James" held at the Banquet Hall of 1st MR battalion in Imphal West as 14 cadres of the UTLA-James, including its chairman Tonthang Singsit and Home Secretary Leijakhai Singsong, laid down their arms before the chief minister. 
The surrendered weapons included two HK-33 rifles, one AK rifle, one A1 rifle, one A2 rifle, three single barrel rifles and three small arms along with one Chinese hand grenade, 18 gelatin sticks, 18 detonators and assorted ammunition.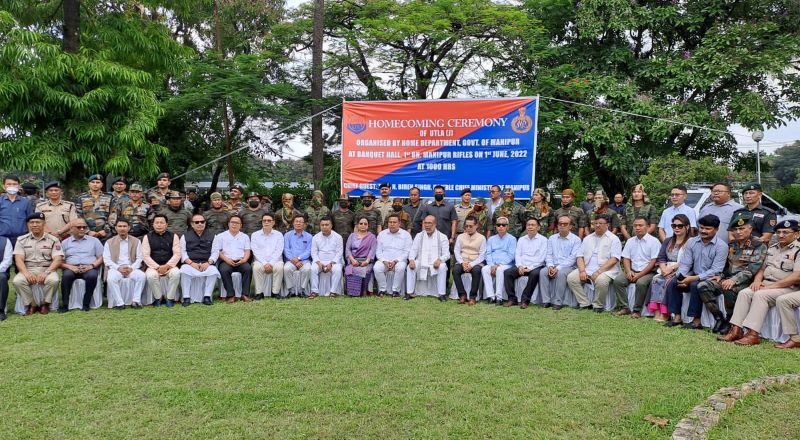 (PHOTO: IFP)
Advertisement
CM Biren also informed that ahead of the revised scheme for Surrender-Cum Rehabilitation of Militants in the North East States 2018, the state government is also planning to take up steps to accommodate the homecoming cadres to government services. 
As per the scheme, a one-time financial grant of Rs 4 lakh to each surrendered cadre will be kept in a bank in their names as a fixed deposit for a period of three years and a monthly stipend of Rs 6,000 per person and incentives for surrendered weapons will be provided during their stay at the rehabilitation camp for three years. Moreover, vocational training is being introduced to the cadres during their stay at the rehabilitation camp as a means to support their livelihood in their future. 
Biren pointed out that due to unrest in the past years, the state is just at the initial stage of development while other countries and states have moved way forward. 
The development which the people are witnessing since the inception of the BJP-led government in the state is due to restoration of peace and harmony, he said adding, "violence does not bring any solution." 
Asserting that the state has started witnessing developmental growth, irrespective of geographical differences in both hills and valley, he apprised all the cadres of proscribed UG groups, who joined the UG groups due to desperation, to come back home. 
Advertisement
The total number of UG cadres who had laid down arms and approved for rehabilitation programmes since 2005 is 681, excluding the new 14 cadres and the numbers of weapons surrendered is 593. Of the 681 cadres, 638 have completed their rehabilitation and are leading a normal life, the remaining 43 are still undergoing rehabilitation, CM Biren informed. 
He said that a screening committee is working out the identification and rehabilitation of cadres, with ADG/IG Special Branch as chairman and comprising various security agencies like army, AR, CRPF, SIB, state police and other agencies. 
Lauding the joint efforts of the state and central security agencies in making the homecoming possible, Biren also sought the support of the CSOs and other agencies for more homecoming in the future. 
The function was also attended by ministers, MLAs, top ranking officials of the state government and central security agencies.
Advertisement