Manipur Chief Minister N Biren Singh visited the Noney landslide site for the second time on Friday and reviewed the rescue operations being taken up. He had visited the landslide area to assess the situation on Thursday.
The landslide on Thursday claimed 21 lives and left several injured and 42 more missing, official sources said.
Briefing mediapersons at the spot, the chief minister termed the massive landslide as one of the worst incidents that happened in the state. As many as 81 persons were affected, of which 18 persons have been rescued so far, he said.
WATCH: Massive Landslide at NF Railway Worksite in Manipur
Biren said that the rescue operation team consisting of Manipur Police personnel, NDRF, SRDF and Army personnel recovered eight more bodies on Friday in addition to eight bodies which were recovered on Thursday.
Advertisement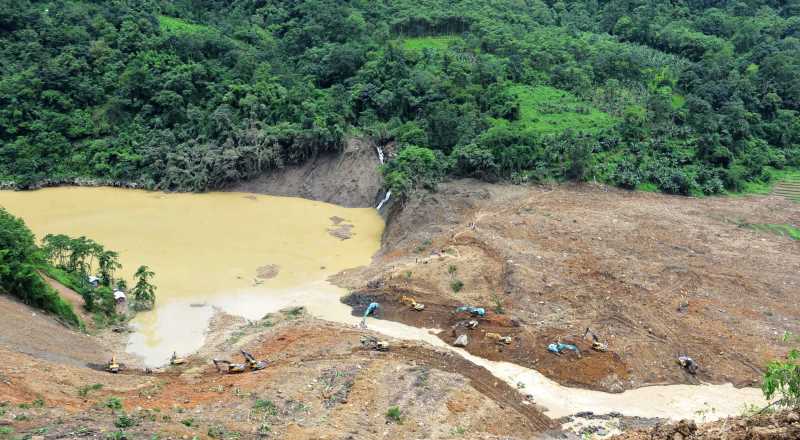 Landslide on Ijei River in Noney district, Manipur on June-29-30, 2022
Due to the soft condition of the soil, roads to the actual area of landslide could not be restored, he said, adding that the state government had put all efforts using possible manpower and machines to recover the missing persons.
Biren further expressed gratitude to Prime Minister Narendra Modi and Union Home Minister Amit Shah for showing much concern on the incident and providing assistance by sending NDRF personnel.
WATCH: Tupul landslide
The chief minister expressed the hope that all the missing persons would be found within two to three days. He said an equipment had been brought from Ladakh by the Army which could locate where about of the dead bodies using the through wall radar system.
Advertisement
Biren lauded the rescue operation team for their tireless efforts to recover the missing persons.
N Biren Singh was accompanied by Works Minister Govindas Konthoujam, Relief and Disaster Management Minister Awangbow Newmai; Social Welfare Minister Heikham Dingo; Transport Minister Khasim Vashum; chairman, Hill Areas Committee and MLA of Nungba assembly constituency Diganglung Gangmei, MLA of Keirao assembly constituency Lourembam Rameshwor Meetei, MLA of Tamenglong assembly constituency Janghemlung Panmei; chief secretary Dr Rajesh Kumar and other senior civil and police officials among others.
Also Read:  42 missing, death toll mounts to 21 in Manipur landslide tragedy
Also Watch: Manipur's Most Dangerous Road - Endangering Lives | Tamenglong Road
Advertisement