At least eight persons were killed and over 50 others missing after a massive landslide hit the Indian Army company location at Tupul along the Jiribam-Imphal railway line in Noney district, Manipur on Thursday, the Imphal Free Press reports from ground zero.
Watch: Tupul landslide
LIVE UPDATES: 
5.40 pm: Manipur Governor La Ganesan condoles 
"La Ganesan, Governor of Manipur is deeply shocked to hear the sad news of a landslide due to the intermittent rain in the State during the last more than a week. The unfortunate incident took place at Tupul Yard Railway Construction Camp, Noney District in which several casualties were reported and dozens buried alive. Personnel of SDRF and NDRF are on their way to join the rescue operation. He conveys his deepest condolences to the bereaved family members. He prays to God for peace to the departed souls and strength to the bereaved family members to bear these profound sorrows. Further, he also prays to God for speedy recovery of those injured persons," the Raj Bhavan said in a statement.
5.33 pm: CM Biren announces ex-gratia of Rs 5 lakh to the next of kin of the deceased and Rs 50,000 to the injured
3.48 pm: Prime Minister Narendra Modi reviews landslide situation, CM Biren thanks PM Modi
"Just received a call from Hon'ble PM Shri @narendramodi Ji to review the situation of the tragic landslide that happened today. We are immensely thankful for his deep concerns and assuring all possible assistance. A team of NDRF has already reached the site," CM Biren tweeted.
Advertisement
3.36 pm: CM Biren reaches landslide site at Tupul
"Visited Tupul to take stock of the unfortunate landslide situation. I'm thankful to Hon'ble HM Shri @AmitShah Ji for calling me to assess the situation and assured all possible assistance. A team of NDRF has already reached the site for rescue operation.
3.30 pm: Prime Minister Narendra Modi assures all possible help from Centre
"Spoke to Manipur CM Shri @NBirenSingh Ji and reviewed the situation due to a tragic landslide. Assured all possible support from the Centre. I pray for the safety of all those affected. My thoughts are with the bereaved families. May the injured recover soon," Pm Modi tweeted.
2.28 pm: Death toll increased to eight, including one Railway labour (VSC) and seven personnel of the Territorial Army of Indian Army.
1.02 pm: Union Home Minister Amit Shah takes stock of landslide situation in Manipur
"Spoke to CM Shri @NBirenSingh  and Shri @AshwiniVaishnaw in the wake of a landslide near the Tupul railway station in Manipur. Rescue operations are in full swing. A team of NDRF has already reached the spot and joined the rescue operations. 2 more teams are on their way to Tupul," the home minister tweeted. 
12.01 pm: Chief Minister N Biren Singh chairs emergency meeting. State government has mobilised the National Disater Response Force (NDRF) and State Disaster Response Force (SDRF) in coordination with the Army and Railway authorities. 
"Called an emergency meeting to assess the situation of the landslide in Tupul today. The search and rescue operation is already underway. Let's keep them in our prayers today. Ambulances along with doctors have also been dispatched to assist in the operation," CM Biren tweeted.
Advertisement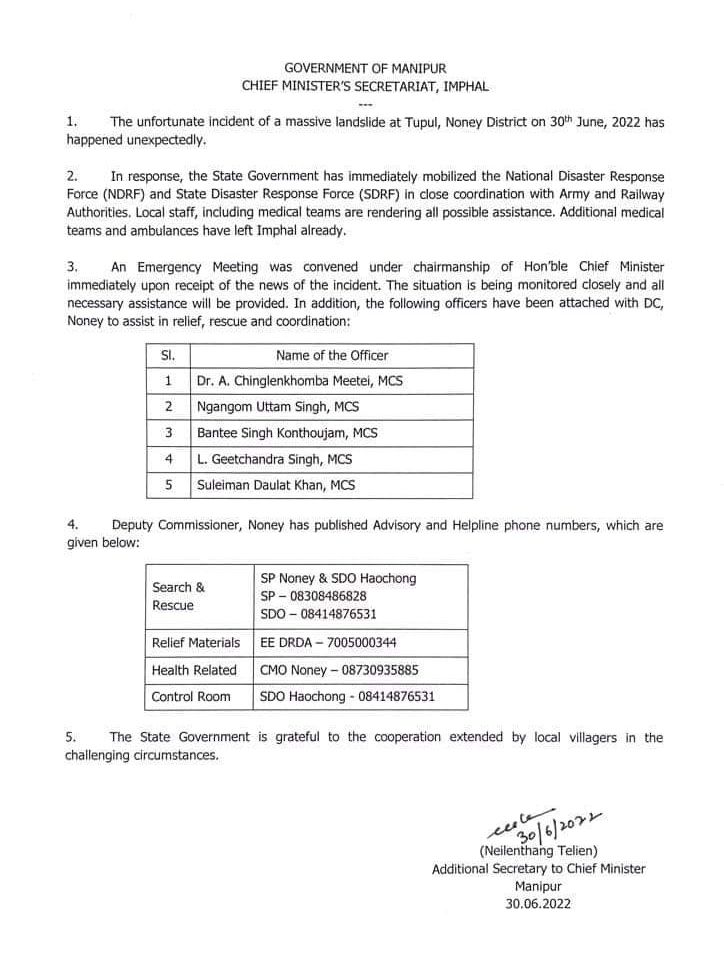 10.45 am: Hill Areas Chairman, Manipur Shri Dinganlung Gangmei rushes to spot and oversees the rescue operation jointly taken up by the nearby villagers, Security personnel, SDRF and NDRF.
10.30 am: Deputy Commissioner of Noney district Haulianlal Guite issues adivory notice; travellers advised to avoid NH-37 road. 
"Due to the unfortunate landslide which occurred at Tupul Yard Railway construction camp, where casualties are being reported and dozens buried alive, the flow of the ljei river has also been obstructed by the debris, creating a dam-like storage condition which if breached will wreak havoc to the low lying areas of Noney District Head Quarter,and  as the condition  is still developing and the future is unknown, the general public is hereby advised to take their own precautions,and especially ensure children do not come out near the river. Whoever can evacuate are also advised to evacuate. Public are advised to stay alert and be prepared for any assistance in case rain conditions deteriorate further.
Travellers are also advised to avoid travelling along the  NH-37 road due to  multiple road blockages.
District administration in coordination with various national and state teams are undertaking search & rescue, relief operations work as we speak," the Advisory read.
 
10.25 am: 13 persons rescued till 5.30 am
 
ALSO READ: Massive landslide on Jiribam-Imphal railway line kills two, 50 missing; rescue operation underway
MUST WATCH: Manipur's Most Dangerous Road - Endangering Lives | Tamenglong Road
 
Advertisement