The meeting between Chief Minister N Biren Singh and Nupi Samaj representatives regarding the Manipur Liquor Regulation Policy on Wednesday failed to come to an amicable agreement.
Lourembam Nganbi, president of Apunba Manipur Kanba Ima Lup (AMKIL), on Thursday informed that the meeting between the chief minister and 10 representatives of women organisation failed to come to an amicable solution regarding the Manipur Liquor Regulation Policy in Manipur.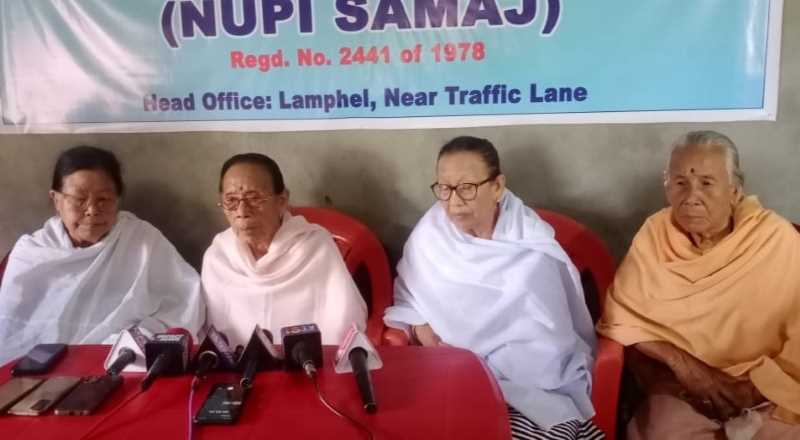 Addressing the media at the head office of Nupi Samaj, Lamphel in Imphal West on Thursday, Nganbi said the women organisation will never accept legalisation of liquor in the state. The government should put additional points in order to strengthen the Manipur Liquor Prohibition Act, 1991, she added.
Advertisement
Following various movements by women of Manipur, the Manipur Liquor Prohibition Act, 1991 was formed, she pointed out. However, due to the failure of the government to fully implement the Act, the issue of liquor has been occurring for the past many years even after the Act was implemented, Nganbi added.
She also said the government should withdraw the state cabinet decision on liquor legalization and that no machine for manufacturing liquor can be imported in the state.
The government cannot compare Manipur with Goa regarding liquor as Goa is much more advanced and developed as compared to Manipur, the president said and questioned why prohibition of liquor in Gujarat is functioning properly and not in Manipur.
The government should not mix the issue of liquor with drugs as they are different, she added.
If the Manipur Liquor Prohibition Act, 1991, is implemented properly with the addition of new regulations, then with the support from various CSOs, local bodies and Imas, liquor can be banned successfully apart from manufacturing of DIC liquor for customary purpose, said Ngambi.
Advertisement
If the government fails to fulfil the demand of the women organisation (Imas), then Imas will start an intensified agitation, she cautioned.
Meanwhile, the chief minister uploaded the photographs of the meeting held with the representatives of women organisations on his Facebook wall on Wednesday with a caption "Held a very productive meeting with the representatives of Nupi Samaj regarding the Manipur Liquor Regulation Policy. During the meeting, we exchanged our views on the implementation of the policy and I have also assured that massive drives against unregulated liquor will be conducted throughout the state".
The chief minister also stated that he was "joined by ministers; Y Khemchand Singh, Govindas Konthoujam, Nemcha Kipgen and Awangbow Newmai."
Also Read: Manipur government plans massive statewide drive against unregulated liquor
Advertisement