Normal life has been badly affected in Manipur due to incessant rains in the last few days which has resulted in landslides, mudslides and flooding at many places.

All the major rivers, including the Barak river, Makru, Irang, Ijei, Apa river and Leimatak were flowing at the danger mark, while Nambol river had reached just two feet below danger mark.

Tamenglong is one of the worst-hit districts by the incessant rains. Landslides, flooding, power outages and loss of mobile networks connectivity were reported at many places in the district headquarters and along the highways.

Due to the incessant rainfall, houses at the hills were submerged under water for the first time by flood waters. At least 20 houses in Sonpram village were submerged under water by the flood which was caused by the overflowing of Apa River and the adjoining streams.

On receiving information, Tamenglong sub-divisional officer Rohit Anand distributed elief materials.

All vegetable farms of Chiuluan village along the Barak River bank were also submerged under water. Massive landslides occurred at many locations, including Jadonang Park and at Gadailong, Ward No IV in Tamenglong district headquarters.

The district administration was able to clear some landslides; however, the particular landslide at Haipou Jadonang park is yet to be cleared till the filling of this report.

Due to the incessant rain, trees also fell on electric poles at various locations, causing power outages. The district headquarters has been reeling under total black for the last three days after frequent disruptions. Mobile networks were shut down due to heavy rain and lack of electricity.

Some schools were given a half day holiday, while some others stopped taking classes due to the rain.

The temporary, makeshift bamboo footbridge over Izei river that connects Longmai Bazar, Noney and Karuangmuan, Nungtek Village has been washed away on Thursday around 9.30 am, while Irang bridge along NH-37 (Imphal-Jiribam road) at Taobam village also collapsed around 1.30 pm following the flooding of the retaining wall. All vehicular movements have been stopped and vehicles have been stranded on both sides.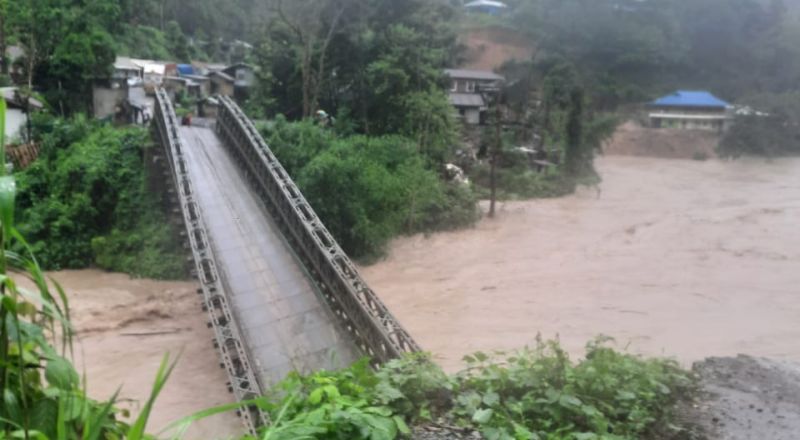 Meanwhile, Disaster Management Minister Awangbou Newmai said that staff of Irrigation and Flood Control Department (IFCD) are on the spot in critical areas and the deputy commissioners of all districts have been alerted. Due to heavy rainfall at the upstream catchment areas, the water volume of the rivers is high but level is not in danger mark, he said.

Regarding the Irang bailey bridge collapse, the minister informed that he has discussed with PWD officers along with NHIDCL. "It is a natural calamity which happened suddenly. So a solution is yet to come up but measures of reinstalling the bridge will be taken up soon," Newmai added.

In Noney district, the deputy commissioner has issued an order, announcing that the route via Rengpang to Khoupum to Imphal will be an alternative route with immediate effect, while advising that the alternative route may be used only for light vehicles and emergency purposes.