Hill Areas Committee Chairman Dinganglung Gangmei alias Dipu Gangmei on Tuesday joined a tree saplings plantation drive of the BJP Youth Wing Longmai in the presence of DFO Noney Napolean Rongmei under banner 'The Green Longmai Campaign'.
Green Longmai Campaign was initiated by Longmai Nature club from 2019. It was introduced to the club by DFO Noney Napolean Rongmei who is also the ex-officio chairman of the club. 
Under this flagship campaign, Longmai Nature Club and Longmai have been actively participating in numerous plantation drives in the district headquarters.
BJP Longmai Development Committee, DLOs and Longmai Village Authority members took part at the event. 
Advertisement
The plantation of saplings will continue in the coming days, said president BJP Youth Wing Longmai Achun Gangmei.
Meanwhile, a thanksgiving programme for the HAC chairman, who is also the MLA of Nungba assembly constituency, was held at Multi Purpose Hall, Longmai-3 under Noney district on Tuesday.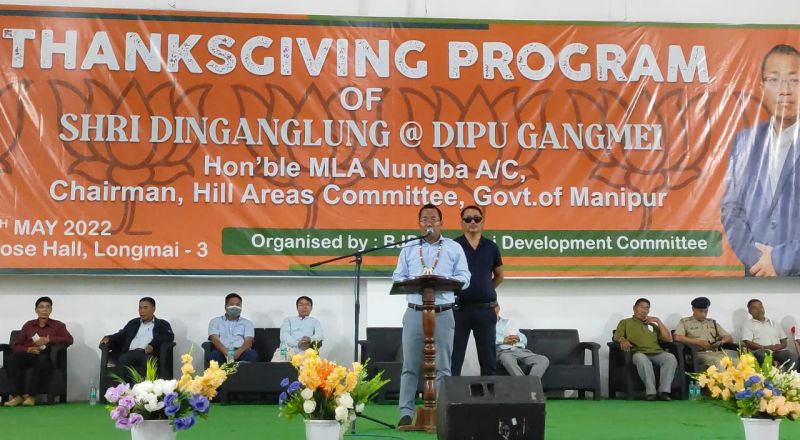 The programme was organised by the BJP Longmai Development Committee. BJP Mahila Longmai performed a welcome dance as a part of the event.
HAC chairman Dipu Gangmei expressed his gratitude to all the general public and well wishers for organising the programme and for all the good hospitality.
Advertisement
He also thanked the people for all the love, support and for giving him such an opportunity to become their representative.
He assured to will work sincerely in collaboration with the general public, while urging all to continue to pray for him in the days to come to bring more changes in Nungba constituency as a whole for the society.
Performance of special music, song and cultural dances by several artistes and presentation of gifts were  the main highlights of the programme.
A special mass Prayer for Dipu Gangmei led by reverend Adim Gonmei Pastor Longmai-4 Baptist Church was also held.
The programme was attended by people of Longmai villages, Longmai Village Authority/Peih Leaders, Longmai Churches Fellowship Leaders, District Administration officials, some prominent BJP Leaders and well wishers.
Advertisement