The Manipur government created 110 ghost population of the Champu Khangpok Village in Bishnupur district and have taken up five ghost projects, including blacktopping works, in the middle of the Loktak Lake, the Champu Khangpok Floating Village Welfare Committee (CKFVWC) has alleged.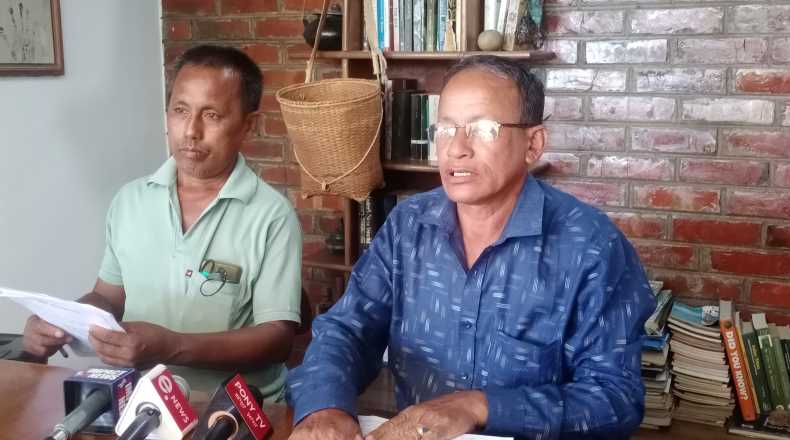 (CKFVWC)
Champu Khangpok village is the only floating village in the middle of the Loktak Lake which has been declared as a census village by the state government in 1991.
Speaking to the media in Imphal, advisor of the village committee, O Rajen, informed that an RTI reply received from the MOBC Department revealed five domains where fund would be invested for the Action Plan and Financial Estimation of Infrastructures Works at the floating village under PMAGY for the year 2019-20.
Rajen said the action plans include construction of a committee toilet, providing emergency ambulance, internet connectivity to the whole village and surprisingly it also includes pucca blacktopping of all-weather roads and installation of street lights in the middle of the lake amounting to a total of Rs 20 lakh.
Advertisement
The Village Development Plan was prepared by one N Jotish (DSWO) and had enlisted eight individuals as the Village PMAGY Convergence Committee, where none of them are related to the village nor known to the villagers, he added.
Of the total funding of Rs 21 lakh under PMAGY, a fund of Rs 12,32,000 has been released as the first instalment on August 23, 2019, informed Rajen.  
Surprisingly, the funds released to the village have never reached the village and not a single work has been taken up in the village, he alleged.
"This indicates a long chain of people all along the government offices who are in cahoots in these criminal activities," he said.
The advisor also produced a photo where the District PMAGY Convergence Committee, Bishnupur was organising "Prabhat Pheri (Morning Walk)" at a ghost school made of bricks in the Champu Khangpok village.
"There is only one school (Loktak Floating Elementary School) run by the villagers and I am very pretty sure that the school is not made of bricks," he added.
Advertisement
Considering all the facts, Rajen, on behalf of all the genuine villagers of Champu Khangpok, drew the attention of the concerned authorities to take legal action against those officials who have conducted such a scam in the name of marginalised people.
In this regard, the committee had also lodged a complaint to the Anti-Corruption Cell opened at the CM's Secretariat on Tuesday against those unknown officials involved on charge of misuse of power, data manipulation, fund embezzlement, identity theft and fraud and deceiving the central government.
The committee is ready to support and cooperate with all investigations in this case, he added.
Also Read:
Loktak Scam: Funds sanctioned under schemes for development works hoodwinked
A year after approval, Manipur's Champu Khangpok floating village Polling Station shifted
Advertisement