Northeast
Doorstep delivery of ART medicine to be launched from Dec to avoid stigma: CM Biren
IFP IMPACT: Manipur Chief Minister N Biren on Wednesday announced doorstep delivery of Anti-Retroviral Therapy as a step to reduce social stigmatisation against people living with HIV (PLHIV).
Updated on 3 Dec 2021, 7:02 am
Observing the World AIDS Day 2021, Manipur Chief Minister N Biren Singh on Wednesday announced that the state government will start doorstep delivery of Anti-Retroviral Therapy (ART) for people living with HIV/AIDS from December 2021.
The World AIDS Day observation was held at 1st Manipur Rifles parade ground in Imphal. Addressing the event, CM Biren said the doorstep delivery of ART is a step to reduce social stigmatisation against people living with HIV (PLHIV).
ALSO READ: People living with HIV struggle to get Antiretroviral therapy amid pandemic

"Attended the World Aids Day observation along with Hon'ble Governor Shri La Ganesan Ji at 1st MR Ground. As a step towards ensuring people living with HIV/AIDS lead a normal life without discrimination & stigma, the State Govt will start doorstep delivery of ART from this month," CM Biren tweeted.
The announcement came barely a day after the Imphal Free Press published a special IMPACT story -
World AIDS Day 2021: PLHIV women fight stigma to access treatment in Manipur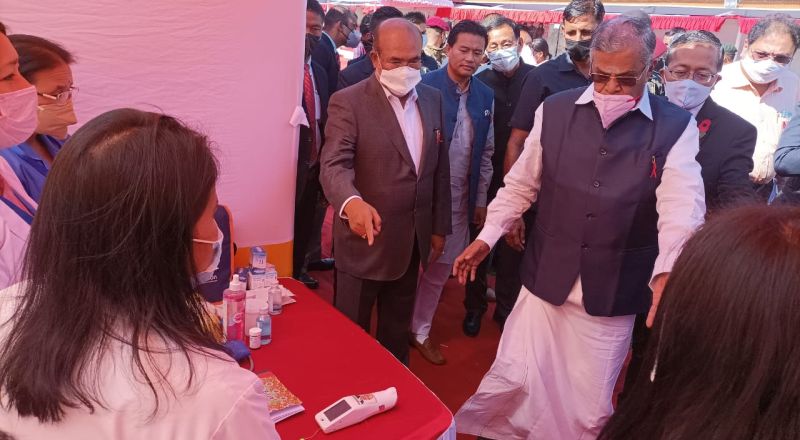 The chief minister along with Governor La Ganesan visited the State Health Society, NHM stall opened at 1st MR parade ground.
This year, the World AIDS Day is observed with the theme "End Inequalities, End AIDS", highlighting the fact that as much as the virus itself, the social stigma attached with it also greatly affects people.
The alarming stage of HIV has been reduced, the CM said but cautioned that people have to be cautious against HIV infection. He said some PLHIV do not have ART medicine due to the social stigma faced while going to take the medicine at hospitals. HIV prevalence among the adult population had reached 3.1 percent during 1999 but has reduced to 1.18 percent, CM informed. With initiatives from various non-governmental organistions (NGOs) the infection rate in the state has been reduced, the CM added and appealed to put more effort in order to eradicate HIV from the state.
The state government has been taking various welfare schemes including health card, go to village, go to hills and others, Biren said, adding that the state government has identified 64 villages under 'health for all' scheme to provide free testing and free medicine. The initiative was taken in order to identify chronic diseases for a healthy society. The work of a government is to bring welfare for the public, he added.
Biren said the state has produced 19 Olympians and to honour them statues of the Olympians will be erected at Olympic Park, Khuman Lampak, Imphal East in 10 acres space. In the park, an advanced training centre will be included for various sports in cooperation with Samsung, he added.
He further said that along the Imphal-Jiribam National Highway, Makru and Barak bridges have been completed and that Irang Bridge will also be completed by June next year. After completion of the three major bridges along the national highway people of the state will not suffer, he added.
People should be cautious as Manipur is a less populated state as compared with other states and with the support from public and initiatives from NGOs, HIV could be eradicated, said Biren.
Governor La Ganesan said Manipur is the first state to adopt State AIDS Policy on October 3, 1996 and the policy was revised in 2015. He expressed his gratitude towards the CM's announcement that doorstep service for delivering ART medicine will be introduced for PLHIV.
The experts and intellectuals in the fields will give good ideas for upgradation of the policy from time to time for the welfare of the public, he added.
The Governor further said small children infected directly or indirectly with HIV should be taken utmost care of and supported. He appealed to the people to remove the fear of HIV infection by taking precautionary measures and to get HIV tests before marriage.
HIV prevalence among Antenatal Clinic (ANC) attendees (that is pregnant women) that had hit a high of 2.7 percent in 1999 has bow declined to 0.51 percent and with the support of National AIDS Control Society (NACO), Manipur has set up numerous facilities and interventions to tackle HIV/AIDS.
There are nine District AIDS Prevention and Control Units in 9 districts headed by district AIDS control officers, who are doctors. At present there are 63 Integrated Counseling and Testing Centres (ICTC), 72 facility ICTCs and 63 community-based screening sites. Retention at ART treatment needs to be higher and presently only 57 percent of PLHIV are continuing their ART treatment.
The World AIDS Day is observed across the world on December 1 every year. This year's theme gives a special focus on reaching people left behind. WHO and its partners are highlighting the growing inequalities in access to essential HIV services.
"WHO is calling on global leaders and citizens to rally to confront the inequalities that drive AIDS and to reach people who are currently not receiving essential HIV services," the WHO stated.
First published:1 Dec 2021, 8:19 am
Tags: