Manipur Chief Minister N Biren Singh expressed his commitment towards bringing equal development in the State and said if with determination, sincerity and commitment, everything can be achieved or delivered with the support and cooperation of the public.
N Biren Singh was speaking as the chief guest of the closing function of the two-day long third state-level Barak Festival 2022 at Sanyi Dahrii Sports Complex, Khabung Karong in Senapati District on Wednesday.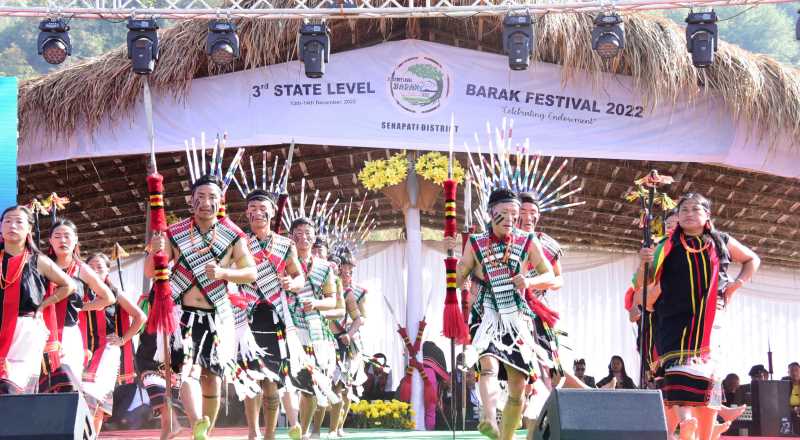 Further explaining the need to shift the festival venue to the Barak River side, the chief minister said the decision was taken after considering that there is no need of organising a festival if we are unable to deliver its benefit to the public.
The chief minister said the decision was taken after a thorough discussion with all stakeholders and after understanding the need to educate the youth about the importance of Barak River, its surrounding forest, nature and water.
Advertisement
Biren further highlighted that the motto of the festival "Save Mother Earth" also echoes Prime Minister Narendra Modi's belief of "Earth is One.'
Further appreciating and lauding the organisers of the festival and those who coined the motto, the chief minister also stressed on the need to promote such important festivals like the Barak Festival.
Biren said the government cannot work without the support and blessing of the public. He expressed the need to cooperate and support one another.
There are around 34-35 communities in the state and it is the duty and responsibility of the chief minister to address their needs and grievances, he added.
Biren also spoke on the importance of conserving and preserving one's culture.
Further lauding the discipline of the communities of the state, the chief minister said today we are moving forward in development.
Advertisement
Biren also spoke of different developmental projects in the district and highlighted the opening of an open gym at Senapati headquarter, ongoing laying of football turf, etc. He also said that assessment of the incomplete stadium at the venue is underway and it will be completed at the earliest.
Also Read: Manipur women street vendors withdraw movement
Performances from different cultural troupes highlighted the closing function, which was also attended by Law and Legislative Affairs Minister Th Basanta Singh, Animal Husbandry, Veterinary and Transport Minister Khasim Vashum, Education, MLAs Haokholet Kipgen, Ram Muivah, J Kumo Sha, L Dikho among others.
N Biren Singh also expressed his deepest condolence on the untimely death of the chief of Khabung Karong Village.
Barak River originates from the hills of Liyai Village, Senapati district, Manipur and flows along Manipur-Nagaland border before entering Assam and Bangladesh.
Altogether 90 different stalls were opened during the festival, including government departments like the Fisheries Department, Autonomous District Council, Senapati, District Legal Services Authority, Senapati, Sub-divisional stalls, Rural Development and Panchayati Raj, PHED, Senapati among others.
Advertisement