Northeast
Bomb blast reduces pharmacy in Imphal East to cinders
A mother and a child staying at a rent next door had a narrow escape.
Updated on 17 Dec 2021, 3:17 am
Miscreants detonated a powerful IED at a pharmacy in Khurai Lamlong Chingambam Leikai under Porompat Police Station, Imphal East at around 2.49 am on Wednesday. No casualties were reported during the blast.
The impact of the blast reduced the shop into cinders while a mother and a child staying at a rent next door had a narrow escape.
The pharmacy 'Boby Pharmacy' was opened by one Moirangthem Boby,40, son of M Prafullo of Singjamei Chingamakha Kshetri Leikai.
Earlier on November 14, another IED was found at the same pharmacy. National Revolutionary Front Manipur (NRFM) had claimed responsibility for planting the bomb and alleged the pharmacy for selling illegal drugs. It had stated that the bomb was planted as a first warning.
After that incident, the pharmacy remained shut for five days. The womenfolk of Chingambam Leikai had told the owner not to reopen the shop until the matter was resolved. However, it was reopened after the landlord had asked the shop owner to do so, said the women of the area. The landlord has been identified as one Konsam Brajamani ,60, of Khurai Chingangbam Leikai.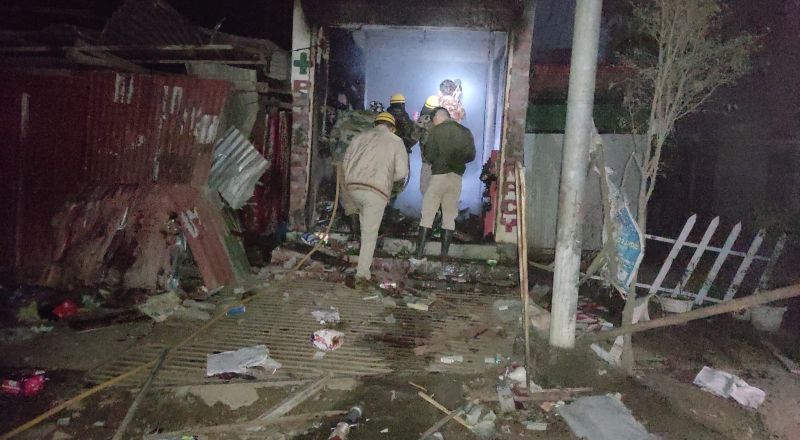 The Bomb Detection and Disposal Squad of Manipur State Police, after taking a spot investigation at the site, expressed that the bomb was a powerful IED.
The explosion not only destroyed all the medicines and goods stored in the pharmacy, but also caused a fire to break out.
Immediately next to the pharmacy, is a paan shop opened by one Wahengbam ongbi Leiren ,47, wife of (L) Amar and her son W Borish by staying on rent. The impact of the blast destroyed their belongings kept inside the shop and their room as well. Fortunately, the pharmacy was made of brick walls and the mother and son were safe from physical harm as no splinters from the bomb made through the walls.
At another hotel opened adjacent to the pharmacy by one Ayam Rabichandra, 22, son of Sanajaoba of Chingangbam Leikai, all the stored items were knocked down and damaged while the glass windows of a building next the hotel were all shattered by the blast impact. The building is owned by one Ayekpam Memcha ,60, wife of (L) Ibungobi.
Several splinter marks were found at the gates and shutters of residences located beyond the road that passes before the pharmacy.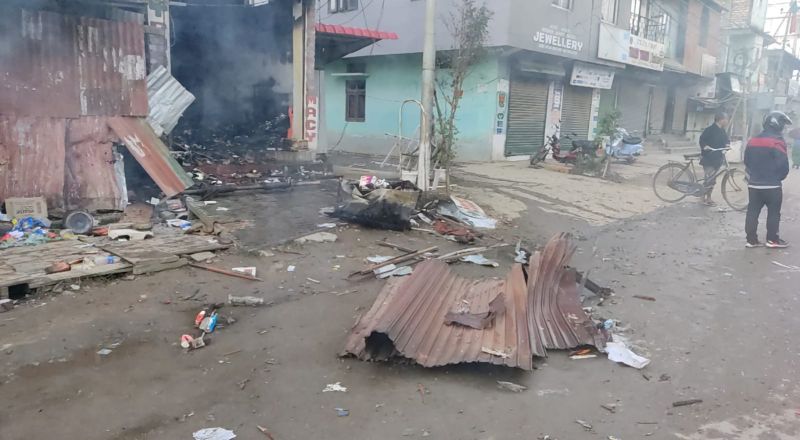 The fire which broke out at the pharmacy after the blast was extinguished by personnel of the Fire Service.
A team led by Manipur Police DGP P Doungel, DIG Themthing, SP Imphal East, Pangei and teams of Forensic Science Laboratory also arrived for spot investigation.
A case has been registered by Porompat Police Station in connection with the incident.
As per owner of the pharmacy Moirangthem Boby, medicines and furniture worth around Rs. 80,000 were destroyed by the blast.
First published:15 Dec 2021, 3:47 pm
Tags: