The 13th edition of Alpha and Omega Gospel Knock-out Football Tournament kicked off at Longmai Common ground under Noney district. The tournament was organised by Alpha and Omega Sports Ministry under the theme 'Raising Tomorrow's Champion'.
As many as 17 football teams and clubs are taking part in the tournament. The opening match was played between Rangkhung-1 FC Vs Alpha Omega FC and the match was won by Rangkhung-1 FC by 3:1 goal.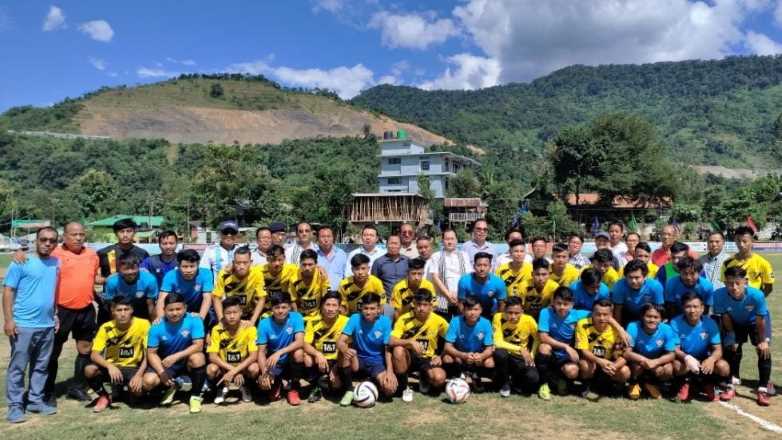 Advertisement
Hill Area Committee Chairman Dinganglung Gangmei and Noney Deputy Commissioner Joseph Pauline Kamson attended the event as chief guest and guest of honour respectively in the presence of Theophilus Gangmei Missionary to Cambodia.
In his chief guest speech, Dinganglung Gangmei encouraged all the teams/players participants in the tournament. He urged all to play with the spirits of games and sports. He appealed to bring peace and unity through sports, saying there is development for community when there is peace in the society.
He assured that development projects for sports lovers like swimming pool, football gallery stage for Longmai Common and other game and sports projects will be brought as soon as possible.
Tree plantation in connection with Sewa Pakhwada was also initiated (A Fortnight for Service).
Advertisement
Noney Additional SP Namsadai Peter, DFO Noney Nepoleon Rongmei, D Stody M/S Gaidingam Service Station and Rev. G Adim Chairman LCF attended the event as a special invitees.
During the programme, GMP Band and some several artistes also performed special songs and choreography.
The Alpha Omega Sports Ministry is a youth oriented Christian Sports Ministry based in Cambodia. It has recently opened a unit here in India. The ministry aims to bring all the youths of different faith into the mainstream sports by teaching them Christian values, Team Spirit, Love and Respect among athletes. Past campaigns have enabled positive changes within the younger community.
Advertisement