Manipur has been witnessing increase in the number of drug overdose cases with the increase in the number of drug abusers and cases of drug trafficking. Considering the alarming situation, the Manipur State AIDS Control Society has identified 25 government hospitals in various places to provide treatment facilities for drug overdose cases, MACS joint director Abhiram Mongjam said on Wednesday.
Mongjam was speaking at the observance ceremony of International Overdose Awareness Day 2022 on Wednesday. Th event, organised by the Social Awareness Service Organisation (SASO) at Wahengbam Leikai, Imphal West, was held under the theme "Time to Remember. Time to Act".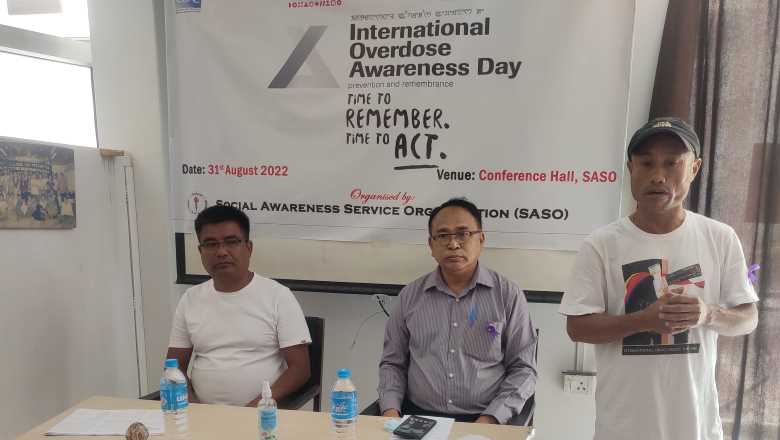 Addressing the function as chief guest, Mongjam said that as per the finding of SASO, the total number of overdose cases they had reported was 1369 while 29 persons died between April 1, 2016 to July, 2020.
On the other hand, according to data collected from hospitals by MACS, the number of persons admitted for overdose during 2021 alone was 326, while nine were reported dead due to drug overdose.
Advertisement
On an average, 20-25 people are admitted for overdose to RIMS and JNIMS on a monthly basis, he said.
The state government has taken up the initiative of identifying the places or sites where overdose cases are found in increasing number. So far, as many as 25 hospitals have been selected to facilitate overdose treatment, he added.
Mongjam also said that most people are aware they can help save the lives of those with overdose but won't do it due to stigma and discrimination against drug dependent people.
Appealing to the people of the state to extend support in saving youngsters from drug overdose, he said, "It is high time to create massive awareness on criminalising or underestimating drug abusers. Drug addiction is a kind of illness that needs support from every section of society to treat it".
SASO project manager Kshetrimayum Dinesh said that in Manipur, the most common reason for overdose is due to mixing heroin with depressant or with alcohol.
Intake of large quantities of sleeping tablets can also cause opioid overdose. People who used drugs after returning from treatment in rehabilitation centres are also at risk of overdose, he added.
Advertisement
He further said that a study in Manipur reported that one-third of heroin users experienced drug overdose in their lifetime.
The issue of drug overdose was unnoticed until 2009 when few NGOs started raising their voice on the issue of accessing naloxone (drugs to save from overdose) through project ORCHID and MACS, he said, adding that community-led overdose response started in 2004 by SASO. Through this response team, many lives were saved from overdose and many have started to lead normal healthy lifestyles.
However, some also lost their lives even when the team tried their level best to save them due to late reporting by the family members and peers, he said.
Also Read: NAB identifies poppy cultivation areas via satellite mapping, ground survey
Advertisement