Potato growers in several villages under Ukhrul hill district in Manipur are in miserable condition this year, as the yield from their potato fields reportedly declined sharply, in what could be an impact of climate change.
Potatoes in the fields have begun to rot before the harvest, as hill areas in the state are hit hard by heavy pre-monsoon rainfall this year.
Apart from the incessant rains causing havoc to crops in the fields, farmers reported mysterious widespread worm infestation that has destroyed several potato fields in the district.
When this Imphal Free Press correspondent visited several villages of the district, it was found that all potato growers have suffered heavy loss as their fields have been damaged by the rains and worm infestation. They all had similar stories to tell.
In recent years, Sirarakhong village in Ukhrul has been gaining popularity for its high-quality large-scale crop production. However, it too has been hit hard this year.
In the absence of cold storage facility in villages, large amount of potatoes in the Sirarrakhong village have started to rot before the harvest owing to the heavy rainfall.
One Anah Zimik, a potato farmer from Sirarakhong village, said that she increased her plantation scale this year with the hope to have bumper harvest and increase her earnings to support her children's education.
Advertisement
"Alas! all my estimation, money, sweat, energy and labour that I have invested have been turned upside down due to incessant rain… I harvested 80 bags last year, but I got only 30 bags this time. Each bag contains around 56 kg of potatoes," Zimik said
One Ashang Wungmi Mungleng from Shirui village, who returned to his village amid the countrywide shutdown during the Covid-19 pandemic, ventured into organic farming.
"I planted 384 kg of potatoes but harvested only 1,600 kg due to 'semi-looper' caterpillar infestation and incessant rain. Last year I sowed 300 kg potatoes and had a 2,010 kg turnover.
"Amid the loss incurred, I am planning to plant more organic winter crops, including peas, coriander, broccoli, among others, in the month of September," Mungleng said sharing his plan.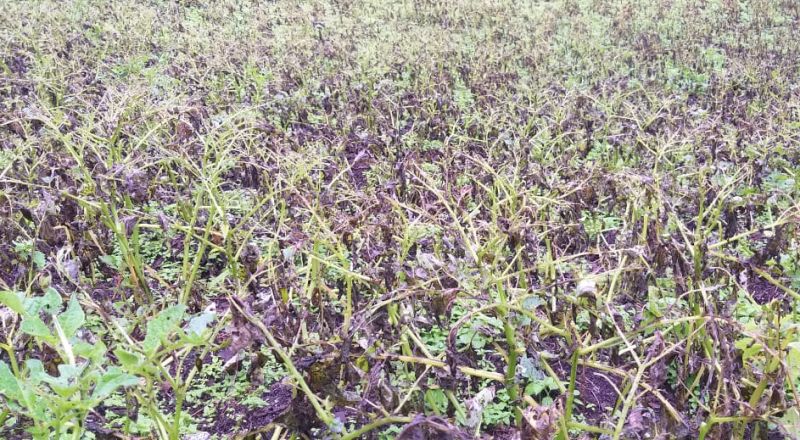 Damaged potato field in a village in Ukhrul dstrict, Manipur (PHOTO: IFP)
It may be pointed out that semi looper caterpillars had reportedly destroyed potatoes and other vegetables cultivated in the field of Kaziphung Hungpung in Ukhrul district this April.
Farmers were experiencing moth fury for the first time, they said.
One Chuihaola KS, a potato grower, who is also the chairperson of Kaziphung Self Help Group Federation from Kaziphung, said that 'semi looper' caterpillar had completely ravaged the plants. "Before the harvest, a battery of moth swooped down the farm and ate up all the green plants and wasted all the strength, money and labour we have invested," Chuihaola said.
Advertisement
Advertisement