Exclusive
Rampant flouting of ban on plastic bags in Manipur: Are we doing our bit?
The demand is so high that the prices of plastic bags per kilogram have increased. Before the COVID-19 pandemic, the prices of single use plastic bags per kilogram ranged from Rs 90 to Rs 100. Now, the prices have increased to Rs 140-150 per kilogram.
Updated on 26 Sep 2021, 7:21 pm
Despite the ban imposed by the state government on the use of plastic carry bags of less than 50 micron in thickness since 2018, widespread use of the banned plastic bags is seen everywhere in Manipur. People's dependency or the demand for plastic carry bags is high in the state, perhaps due to ignorance or lack of action against its use by the concerned authorities or due to lack of dissemination of public information about its harmful consequences.
As the demand for single use plastic bags by customers to carry purchased goods is high, vendors and shopkeepers told the Imphal Free Press that the government should arrange alternative means to ensure the ban on it. They opine that if the government supplies an alternative to plastic carry bags, people will not violate the ban. They are also of the view that if the government is really concerned, it should first ban import of single use plastic bags.
Speaking exclusively to the Imphal Free Press, experts are of the view that the ban should be strictly enforced and the public made to understand the meaning of single-use plastic bags, while government officials say they are working towards a permanent solution to the issue.
Also Read: Lack of action and awareness about PUCC causing rise in air pollution in Imphal valley
Vegetable and fruit sellers on the side of Porompat DC road said they are aware of the state government ban, but there is nothing they can do about it because customers demand polythene bags to carry the purchased goods.
Abethoi, a 52-year-old vegetable vendor from Khurai at Lamlong market said the authorities would sometimes carry out raids at Ima keithel, Khwairamband market, where she used to sell clothes before. During the raids, they would seize polythene bags but things would return to normalcy within a few hours and business would resume, she said.
Also Read: Manipur PDS website remains non functional for lodging grievances
"Due to the pandemic, the prices of single-use plastic bags have increased … but people are still using plastic bags against the government order due to the convenience of carrying things in them. If the state government or authorities provide alternative means to carry their things, the people will not keep breaking the rules," she added.
However, many local shop owners in various places in urban areas of Imphal say the use of plastic bags, be it less than 50 micron or more, may not stop. They say that the demand for polythene bags by customers is so high that no shop owner is able to refuse it. They assured that if the government or authorities are banning polythene after producing an alternative, then they will prefer not to use polythene bags.
Also Read: Insect infestation wreaks havoc in Manipur's Willong village
The demand is so high that the prices of plastic bags per kilogram have increased. Before the COVID-19 pandemic, the prices of single use plastic bags per kilogram ranged from Rs 90 to Rs 100. Now, the prices have increased to Rs 140-150 per kilogram.
One grocery shop owner named Mustakim from Imphal East says that per day a minimum three kg of single use plastic bags are used by customers. It means he spends Rs 420-450 on plastic bags per day, annually he spends Rs 5,040. But the main concern is the huge amount of plastic bags used in the state, and whether these bags are recycled or simply thrown away.
Pointing out that seizing of plastic bags will not stop their rampant use, he said that if the authorities are really concerned about it, then it should first ban the importing of plastic bags into the state. "It is not the common folks who are importing these plastic bags but it is those sellers at Thangal bazaar," he mentioned.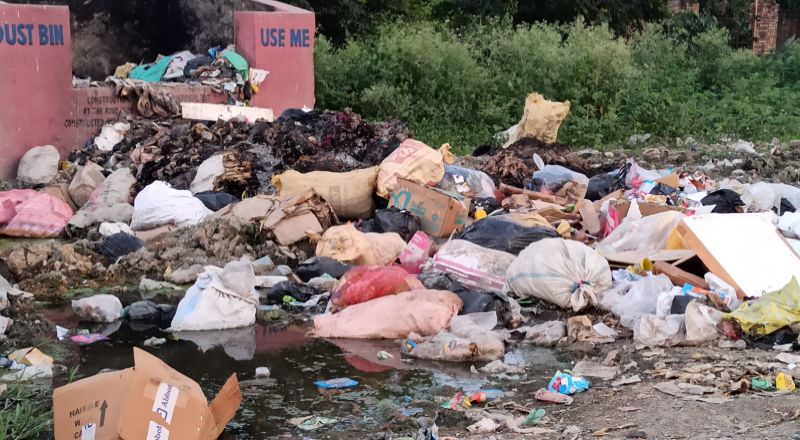 (PHOTO: IFP)
Plastic wastes being scattered at roadside as well as at dumping areas is a common sight and they are found at every nook and cranny of the state. The state has been witnessing extensive use of plastic bags.
In view of soil and air pollution and its harmful effects on man and his environment caused by plastic wastes, the state government in 2018 issued a complete ban on the use of plastic bags of less than 50 micron in thickness. The ban was issued under section 15 of the Environment Protection Act, 1986, in pursuance of section 4 of the Plastic Waste Management (Amendment) Rule, 2018 by India's Ministry of Environment, Forest and Climate Change. The Act also mandates imprisonment for a term which may extend to five years or with a fine of maximum Rs 100,000 or both.
Also Read: Pandemic drives thousands to selling vegetables and fruits in localities
However, the ban seems to have hardly any impact on the ground, where drains are found to be clogged with polythene bags and dumped on roadsides all over the state.
According to a report in 2019 with the Imphal Municipal Corporation (IMC), the city constituting 27 wards generates around 120-130 tonnes of waste every day. The collected wastes are disposed of in the outskirts of the city.
The IMC officials say the non-functional treatment plant (for dry waste) at Lamdeng has been forcing them to bury the waste underground at Porompat, Imphal East.
"Earlier, we used to segregate the waste followed by its treatment at our plant in Lamdeng but locals protested over the foul smell emanating from the waste. Subsequently, the functioning of the plant was halted and temporary arrangements were made at Porompat where the waste is buried under the ground by digging around 7-8 feet deep beneath the ground," said section officer, IMC Sashi Chingsubam, while speaking to the Imphal Free Press.
He, however, admitted that the waste is buried without any segregation and informed that the administration is keen to find a permanent solution to the issue.
"We also face a severe manpower shortage and inadequate financial resources that also pose a hurdle to keep the city clean. We cannot keep dustbins in every part of the city because there is a fear of the bins being misused by the insurgents to hide explosives as the state is still prone to militancy," Chingsubam said.
It may also be mentioned that the wastes are still being thrown at Porompat roadside. There are garbage bins installed at the roadsides but no one is considerate enough to put the garbage into them.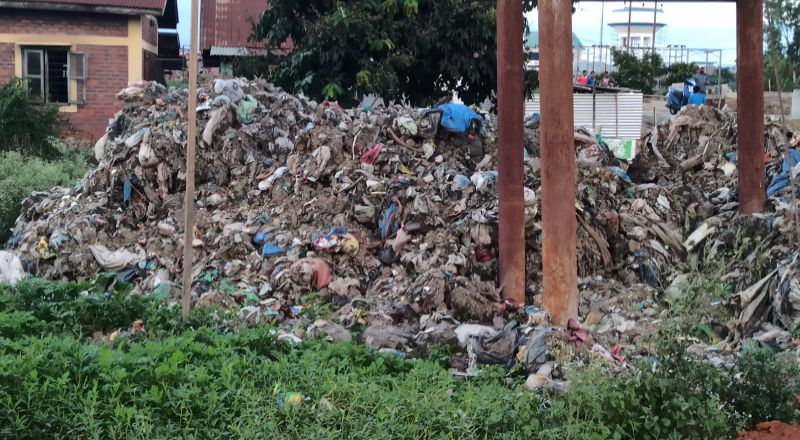 (PHOTO: IFP)
As per 2011 census, the total population of Manipur is 25,70,390. Rural and urban population is 1,736,236 and 834,154 respectively. The population has increased over the years. Subsequently, the rapid population growth has resulted in increased solid waste.
Waikhom Roshan of the Manipur Pollution Control Board at Lamphel, Imphal, told the Imphal Free Press that a plastic policy of Manipur draft has been made. Under the policy, a special task force will be constituted so that it may be implemented successfully, he said.
Polythene bags with thickness less than 50 microns are already banned in the state. Now, the Ministry has chalked out a phased manner of banning-single use carry bags as well as other commodities. From this September 30, polythene bags under 75 microns will not be allowed and from December 31 next year, polythene bags under 120 microns will be banned, he added.
Roshan said that due to COVID-19 pandemic the drive of seizing single use plastic less than 50 micron was stopped. The drive had been conducted in and around Imphal Khwairamband Keithel. In 2019, more than 400-500 kilogram of single use plastic bags were seized.
Also Read: People living with HIV struggle to get Antiretroviral therapy amid pandemic
"The notice was issued to ban plastic bags of less than 50 micron but a proper definition was lacking. This time, it has been defined and a newly issued notice to ban 75 microns and 120 microns is yet to make it to the state gazette," he added.
The Union government has notified the Plastic Waste Management Amendment Rules, 2021, prohibiting the manufacture, import, stocking, distribution, sale and use of several single-use plastic items from July 1, 2022. The Central government also asked the states and Union Territories to develop a comprehensive action plan to eliminate single-use plastic items, as per the notice. The Ministry of Environment, Forest and Climate Change stated that a two-month-long awareness campaign on single-use plastic was also organised by the state government.
As per a notification issued by the Ministry, a single-use plastic commodity means a plastic item intended to be used once before disposed of or recycled. A 'Thermoset plastic' means a plastic which becomes irreversibly rigid when heated and hence cannot be remoulded into desired shape whereas a 'Thermoplastic' means a plastic which softens on heating and can be moulded into desired shape, as per the notification.
Also Read: Social stigma major cause of opioid overdose deaths in Manipur
The items that will be banned beginning next year are—Earbuds with plastic sticks, plastic sticks for balloons, plastic flags, candy sticks, ice-cream sticks, polystyrene (thermocol) for decoration, plastic plates, cups, glasses, cutlery such as forks, spoons and knives, straw, trays, wrapping films around sweet boxes, invitation cards, and cigarette packets, plastic or PVC banners less than 100-microns and stirrers.
The plastic policy draft has, for the first time, defined non-woven plastic bags--widely used as shopping bags--and brought brand owners (selling single-use plastics under a registered brand name) as well as plastic waste processors under its ambit. It has also, for the first time, defined both thermoset plastic and thermoplastics. Thermoset plastics are used in electrical fittings and tableware whereas thermoplastics are used in items such as toys, combs and mugs.
India has defined single-use plastic as disposable plastics (use-and-throw items) that are commonly used for packaging and include items intended to be used only once before they are thrown away or recycled. These include items such as carry bags, food packaging, bottles, straws, containers, cups and cutlery.
Despite the strict rules, they seem to be hardly implemented with polythene bags and plastic wastes found everywhere. The burning of plastics has also been adding to air pollution.
Also Read: Breaking stereotypes, Churachandpur woman cobbler has been mending shoes for decades
Speaking to the Imphal Free Press, joint director of the Directorate of Environment and Climate Change, T Brajakumar said that plastic waste is among the category of solid waste. Plastic waste management rules are there in Manipur and Manipur Pollution Control Board is taking charge of managing plastic waste.
He said that strict banning of plastic can be done at any time without having to look for alternative means. The banning of plastic bags should be done from block level to village level and further to district level, he said. The people are aware of the impact of plastic bags but still not stopping the use because the means or techniques are not strong, he added.
Another issue is although single use plastic bags are banned, there is still a lack of information among the public concerning the type of plastics. Therefore, to spread awareness on the type of plastics which the public can avoid, poster campaigns can be organised through which photos of banned plastics can be displayed in public with the help of student organisations or NGOs, he said.
Brajakumar also raised concerns that plastic wastes which have been dumped on the ground have not decomposed for many years and pieces of plastic can contaminate the underground water. This is why people sometimes find plastic foils in groundwater, he said. He suggested collecting plastic waste for recycling or use in road construction or rooftop construction.
First published:21 Sep 2021, 11:14 am
Tags: