More News
A significant role of a nurse (Community Health Officer), Achieving Universal Health Coverage
Nurses are the largest workforce globally, They have the most collective data, knowing in depth regarding their respective posted villages.
Updated on 10 Dec 2021, 7:05 am
Universal Health Coverage (UHC) comes from the need for an affordable and accessible healthcare system. As quoted in the global monitoring report (2019), Universal Health Coverage can be defined as, "All people receive the health services they need, including public health services designed to promote better health (such as anti-tobacco information campaigns and taxes), prevent illness (such as vaccinations), and to provide treatment, rehabilitation, and palliative care (such as end-of-life care) of sufficient quality to be effective, while at the same time ensuring that the use of these services does not expose the user to financial hardship."
It addresses the issue of out-of-pocket (OOP) expenditure on health services that tends to push people into poverty by using their life savings, selling assets or creating a debt pool. This not only destroys their future but often affect lives of the future generations. Another aspect covered by UHC is the inclusion of all communities and individuals to access quality health services without any financial burden. Quality health services include 24 working resources with trained staff. To make 'health for all' a reality, WHO emphasizes on three majors' aspects:
1. Access to all essential health services;
2. Contribution of policy makers in UHC.
3. Provision of quality and people-centeredcare; and in moving towards UHC, three dimensions must be considered namely population, healthcare service and financing.
Nurses are the largest workforce globally. Nurses ranked most trusted profession (Kathleen Gaines, 19th Jan 2021) "Health is a human right that cannot be delivered without nurses" - International Council of Nurses (9th Dec 2021).
Treatment and diagnosis were the main focus with patient having any illness but now the trend has changed, before the onset of any illness prevention and promotion of health were main goals, nurse provide caring, awareness session, motivate to do regular exercise, changing life style and providing support mentally. Nowadays in the Indian health sector scenario has change to provide comprehensive primary healthcare added one new cadrecalled community health officer (Nurse) lead the Ayushman Bharat health and wellness centre in a population of 5000 or more in rural India for Achieving Health for All goals, they played a role as a team leader, collaborator, researcher, educator, manager, innovator, healer, administrator, mentor.
The most trusted dedicated workforce in the village now adays in providing prevention, promotion of wellness activities and other expanded packages of Ayushman bharat services at the nearest place, and ensuring continuum of care, leaves no one's health behind, trying to provide sustainable quality services, a great workforce trying to achieve health for all goals. In times of pre and post covid era they took various roles and responsibilities regarding vaccination drive, breaking myth, awareness programme, isolation duty, documentation, testing etc.with the on-going new variant of OMICRON, the challenges and the duties of the nurses would be added to another level. The nurses and other health care workers are already in an exhausted state of mind physically and mentally. Now, new work norms are expected adding more loads on the existing difficulties.
Nurses provide basic knowledge and care regarding healthcare services from the birth till the end-of-lifecare, community assessment, sensitization of community, engaging involving local leaders, developing prioritizing programme for continuum of care in health system.
Looking from the point of public nowadays, HWC(Health and Wellness centres) are the most rural trusted healthcare facilities and a strange place today where everyone enjoys better healthcare at nearest place.
As you can see the chart, below are the data collected by a nurse form five villages with a population of 5350 Under Health and Wellness Awang Wabagai centre (Awang wabagai -905, Tingri-453, Thouriphi -971, Khullen-1134, Leikinthabi-1903) for demography, disease burden and service delivery of a HWC (Source- Health and wellness centre Awang Wabagai Imphal west, Manipur)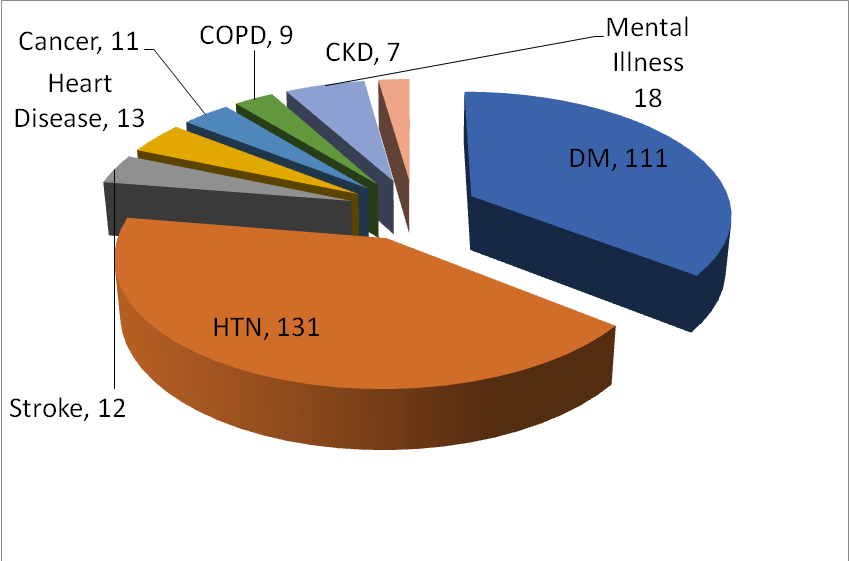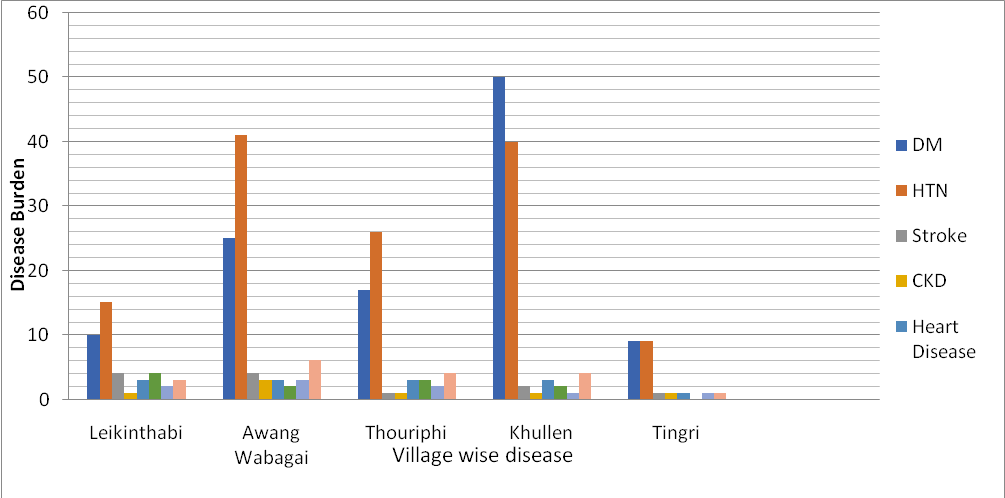 Many challenges have to encompass while collecting the above data and bringing out the findings. Data were collected by visiting sites of river bank where people work, road side vendors, gambling locations, paddy field, ritual function, self-help groups gathering. The CHO in various setting is playing the major role in changing the health scenario starting from grassroot level. If together we take precautionary measures, promoting awareness and preventive actions, the chances of lowering illness will be very effective.
Nurses have the most collective data, knowing in depth regarding their respective posted villages they act as a village dictionary. After the existence of Community Health Officer (Nurse), healthcare in primary sub health has taken into new evolution.
Today Ayushman Bharat HWC has cross more than 69 core footfalls OPD towards living a healthy life and more than 56,187 trained CHOs at AB-HWC (Ayushman Bharat Health and Wellness Centre), so we need strong dedicated nurse leaders to achieved health for all goals together in coming future.
Very promptly, the Chief Minister of Manipur has launched chief Minister Health for all Schemes for door-to-door screening and it was not an easy task to complete in a few periods but the Community Health Officers (Nurse) of Manipur took agreat effort for screening in each and every corner i.e., hilly, valley districts all over Manipur to achieve health for all goals.
''Health is important for all. Everyone deserves to enjoy a good quality of life. The Government through the Ayushman Bharat initiative has made a very nice program that needs to seep in till the last home in India. I think it is my duty to ensure services to reach people. If I don't make changes in this generation, the future generations will suffer. I always wanted to be a caregiverand now I feel I can play a bigger role including that of a leader for my team through this program and ensure quality healthcare to the people, which is their right".
(The views expressed is personal)
First published:10 Dec 2021, 7:02 am
Tags:
Maibam Ranita Devi
Community Health Officer, Ayushman Bharat – Health and Wellness Centre, Imphal West, Manipur.