Prayers for a bountiful harvest and a special cultural song lit up the celebration of Somkhap Phanit 2022 (a Tangkhul pre-harvest festival) at Hongmahn (Khongbal) Tangkhul village in Ukhrul district on Friday.
Villagers of Khongbal Tangkhul have been celebrating this festival since the adoption of Christianity, though the village existed since the 13th century as per Manipuri Puya. It is observed to offer prayers to the almighty for a productive harvest.
Advertisement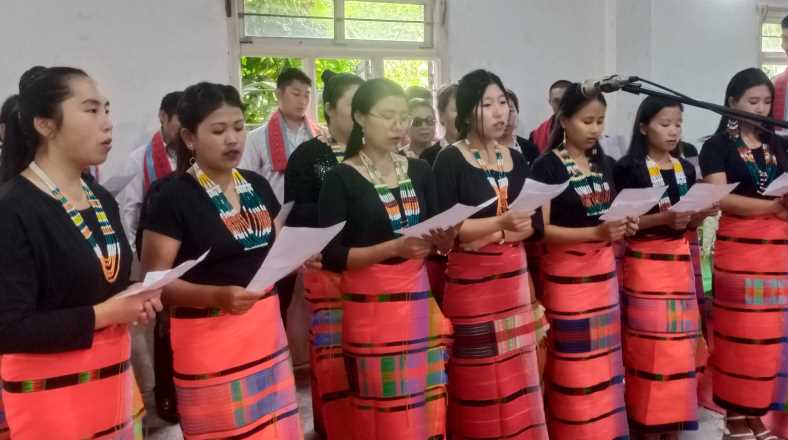 Speaking on the 73rd edition of the festival as chief guest, Ukhrul MLA Ram Muivah informed that almost all the Tangkhul festivals are related to agriculture as maximum of them are farmers by profession.
The Tangkhul community has a close bond with the Meitei community since time immemorial and it is also reflected in the royal chronicles "Cheitharol Kumbaba", the MLA said.
Expressing his gladness of witnessing people from different ethnic groups gathering in this special festival of Tangkhul, the MLA called for unity among various indigenous groups of the state and to head together towards development.
Advertisement
Prior to the formal function, the dignitaries paid a candle light tribute to the tomb of late R Suisa, the second MP (Outer) from Manipur and planted tree saplings in the surrounding area of the tomb located at the Khongbal village.
As a part of the programme, a special cultural group song was also performed by troops from the Khongbal Village apart from distributing saplings to the participants of the programme showing support to the "Go Green Manipur" mission.
The function was presided by president of Tangkhul Naga Long, David Kashung, and was also attended by chief of Thangkanphai Village, Thangkam Misao; headman of Khongbal Tangkhul Village, Mathankhui Zimik and proprietor of Pandam, M Shivadutta Luwang among others.
Advertisement