The post COVID scenario will be extremely challenging to the state educational sector as the authorities need to follow certain guidelines in conducting physical classes, retired civil servant RK Nimai said on Friday.
Nimai was speaking as chief guest during the presentation programme of Governor's Award, 2020, Rajkumari Sanatombi Devi Award, 2020 and prize distribution at RK Sanatombi Devi Vidyalaya, Pangei, Imphal. It was organised by the managing committee of the Vidyalaya.
The SOPs for reopening of the schools in Manipur is directly copied from the national SOPs without considering the constraints which the state is facing, Nimai said.
He said that most of the government educational institutes in Manipur will be unable to follow the SOPs for reopening the schools and colleges due to the conditions of their poor infrastructures.
On the other hand, there is a need for taking up stringent precautionary measures and to follow the SOPs in reopening the schools and colleges, as the whole institute will be shut down for sensitization, if any of the students or faculties who attended the institute is found to be COVID-19 positive, Nimai added.
The ability of students to absorb what is being taught in the online classes is highly doubtful, so conducting physical classes is also the need of the hour, he said.
Advertisement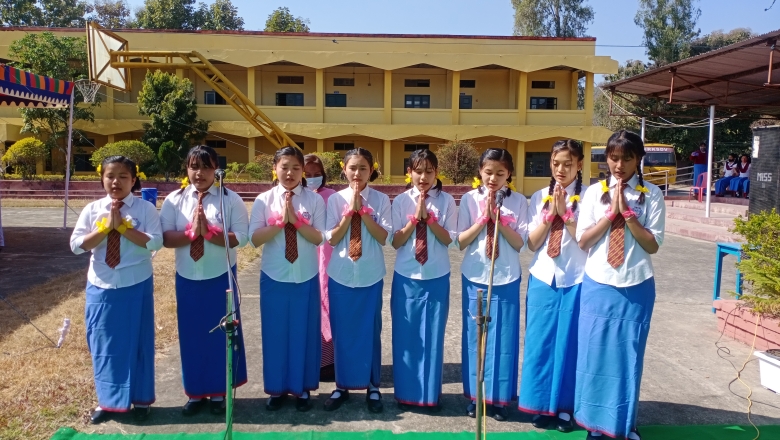 (Students of RK Sanatombi Devi Vidyalaya singing opening song during Governor's Award 2020 presentation, PHOTO:IFP)
Nimai asserted, "The National Education Policy, 2020 is like transplanting the American system into Indian context without proper investment and infrastructure."
He pointed out that government education institutes do not have a pre-primary and nursery school education and have a lapse of trained teachers in these categories.    
As per his estimates, effective implementation of the NEP, 2020 will not be possible when the whole country is reeling under financial crunch due to the pandemic, he added.
Advertisement
The function was attended by vice-chairperson of Managing Committee, RK Sanatombi Devi Educational Institutes T Asha Devi as president and director of Manipur Police Training College RK Tutusana Devi as guest of honour.
The Governor's Award, 2020 was given to Kshetrimayum Jobalaxmi (class-X, Science stream) of RK Sanatombi Devi Vidyalaya, Pangei.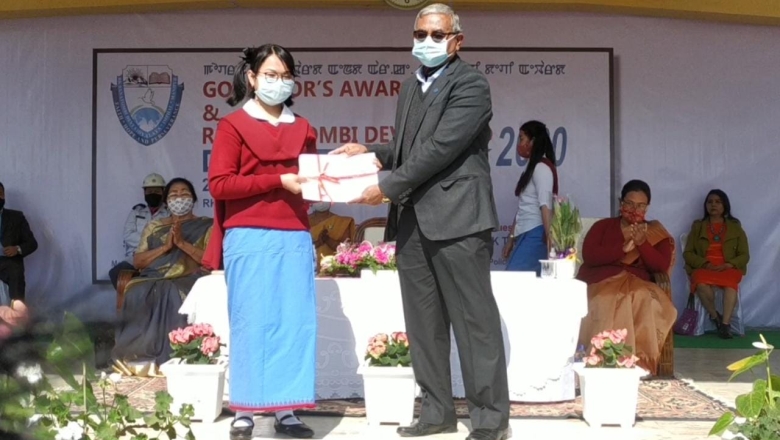 (PHOTO: IFP)
The RK Sanatombi Devi Awards, 2020 for devoted service as teacher was conferred to headmaster of Sadar Patel High School H Priyobrata, outstanding  service as a traffic police to Ningombam Bijeta, devoted service and contribution as nurse to principal of Saina Institute of Medical Science Athokpam Right Kumari, commendable activities in spite of being a differently abled person to Lisham Johnson, outstanding services in the field of journalism to reporter of The Sangai Express Sapam Aruna, best sportsperson to boxer Naorem Baby Rojisana Chanu and special award to pilot officer of governor's carcade Joyprakash Yumnam.
Advertisement