Manipur Chief Minister N Biren on Wednesday assured safety and security of women in the state and said the government has been working hard towards empowering them.
The chief minister was speaking at the celebration of the 15th foundation day of the Manipur State Women Commission (MSCW) in Imphal. The celebration focussed on 'Socio cultural and political convention of Northeast Women.'
The government has been making all-out efforts towards empowering women of the state by implementing various initiatives and schemes to strengthen their livelihood and security, Biren said. He said that the works and achievements of women have changed the socio-cultural life of the people.
"Providing security and assuring dignity to women have been a priority and the women's market in Imphal made women self-reliant. Seven women's markets were constructed and ten more markets will be constructed. Such a market exclusively managed by women helps in empowering women," he added.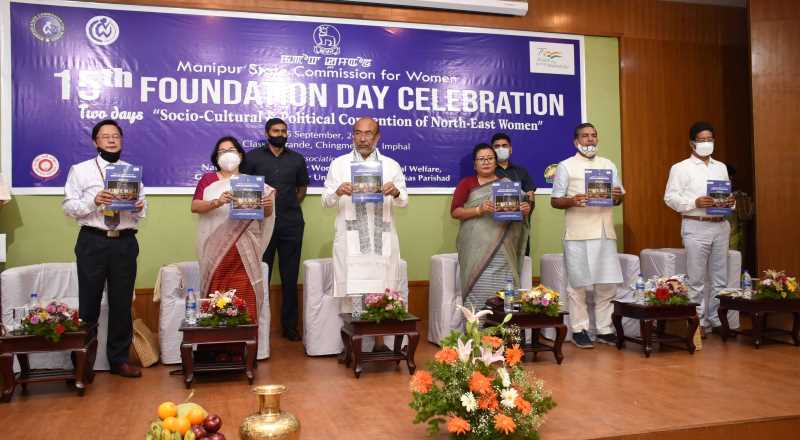 The chief minister mentioned that the Manipur Start-up scheme was introduced to support entrepreneurs in the state and many of the entrepreneurs who received support under the scheme were women. As per the annual report of 2018-19, Manipur topped the list of Micro Small and Medium Enterprise business registrations among the NE states and 50 per cent of these businesses are owned by women, he said.
Advertisement
Of the 7,106 loans disbursed under the PMSVANidhi to street vendors of the state, 94 per cent of the beneficiaries are women vendors.
Mentioning that Manipur's women are more empowered compared with women of other parts of the country, Biren said that many top posts in administrative and police departments are being held by women in the state.
Stressing that the government has taken up various steps for the safety and security of women, he stated that all women police stations were also established in different districts. Under the social welfare department, 16 one-stop centres were established to support women in all the districts. A 24X7 toll free women helpline has been functional since the installation of the present government, he added.
Biren cautioned parents to check what their children do to earn their livelihood in other cities. The government will help entrepreneurs and youths so that they need not go to other cities, he assured.
Manipur has been exporting organic products like pineapple, ginger, black rice. It has advantages and opportunities for youth to become self-reliant in the state.
"There was a time when women woke up all night holding torches to protect their family members, now it is not required," he said.
Biren also said he will encourage participation of women in elections.
Joint secretary of National Commission for Women, Asholi Chalai urged the governments in Northeastern states to train the youth, especially the girls and women according to their cultural and traditional potential for getting job opportunity in their own state.
Advertisement
Asholi said that participation of women in decision-making bodies was less and women have been denied their birthrights, he said. The evils of polygamy need to be looked into and registration of marriage will help women, he said.
Pointing out that many youths from the Northeastern states are moving out from their states in search of jobs in other metropolitan cities because of lack of job opportunity in their own state, he suggested training the women of NE states in handloom or handicraft. 
Manipur State Women Commission chairperson Binota Mainam said women's participation in every activity is increasing but in the field of politics, the representation of women is less in the state assembly and Parliament as well, she said.
"Women's participation is less in various decision making bodies also. So, women need to be motivated to take part in every affair of life and governance," she said.
Binota said that women should be made aware that they are responsible for their growth, gender and equity. The commissions of NE states should work more on giving awareness and motivating women to know their potentials, she added.
Manipur University vice chancellor, professor N Lokendro Singh said that Northeast has different languages, features and attitudes towards life. Women in the Northeast face less restrictions compared to other parts of the country, he said.
On the occasion, the chief minister along with other dignitaries released the Annual Journal of Manipur State Commission for Women (MSCW) titled 'Women News Horizon (Vol-V)'.
Advertisement