Growing numbers of fruits and vegetables sellers are becoming a common sight in every street in and around Imphal valley and other parts of Manipur today. Struggling to survive amid the Covid -19 pandemic, thousands of labourers, small traders, housewives and women vendors, who once operated at market places, are now making a living by selling seasonal vegetables and fruits by the roadside in every locality.
As Ima Keithel (Only women market) at Khwairamband, Imphal and other parts of the state remained closed to help contain the pandemic, seasonal vegetables sellers in residential areas have come to the rescue of hundreds of people in Manipur. Despite the loss of livelihoods and jobs caused by the closure of market places and imposition of curfew and lockdown in the state, several survived by turning to selling vegetables and fruits for local consumption.
"After the lockdown and curfew imposed by the state government, we stayed in our homes for over a month. But there was no way we could survive without earning daily, and the only option available was selling vegetables and fruits," said one Hesamuddin Shah, a 46-year-old auto driver from Porompat, Imphal East.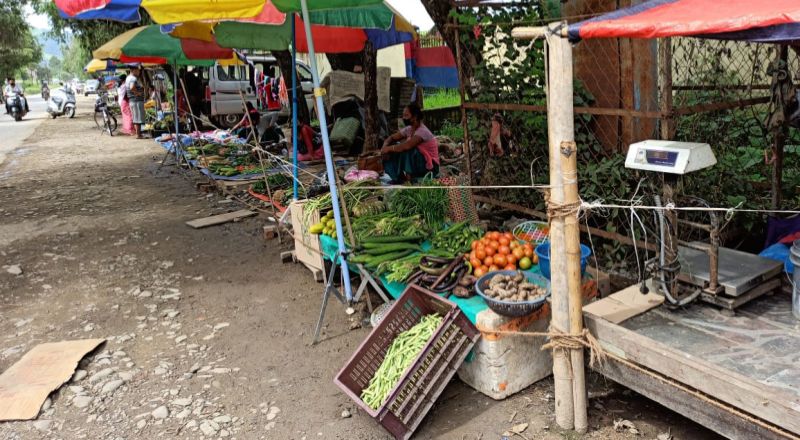 (PHOTO: IFP)
For about six years, Hesamuddin had been driving an auto-rickshaw for a living. Hit hard by the pandemic and the lockdown, he and his wife started selling vegetables to support the family.
Not only auto drivers, other domestic helpers, construction workers and others in the informal sector found themselves unemployed during the pandemic. The statewide lockdown brought most economic activities to a standstill. However, there were no restrictions on selling vegetables besides essential items, including milk, medicines and groceries.
In local streets, some shops that used to sell clothes and accessories now sell vegetables. Wholesale grocery shops too have started selling vegetables and fruits.
Advertisement
But the business does not come without its challenges. "I am struggling to run my family now," said Bidya, a mother of two, who used to sell vegetables at Khwairamband bazar.  She needs to spend money on arranging vehicles and other necessities to collect vegetables from different rural areas and she sells them at the gate of her house.
During the second wave of COVID-19, an increasing number of women started selling vegetables, as some housewives also started selling vegetables and fruits as they are mostly in demand. As the demand for vegetables has gone up during COVID-19, local vegetable sellers collect their vegetables from nearby farmers and also from rural areas.
One Chongtham (O) Naobi who sells fruits at Porompat, Imphal East said she was a housewife but she started selling fruits to support her family. "The COVID-19 pandemic pushed me to work as sources of livelihood are cut off... The battle to fill an empty stomach is the worst kind of battle and it cannot keep human beings tied down," she added.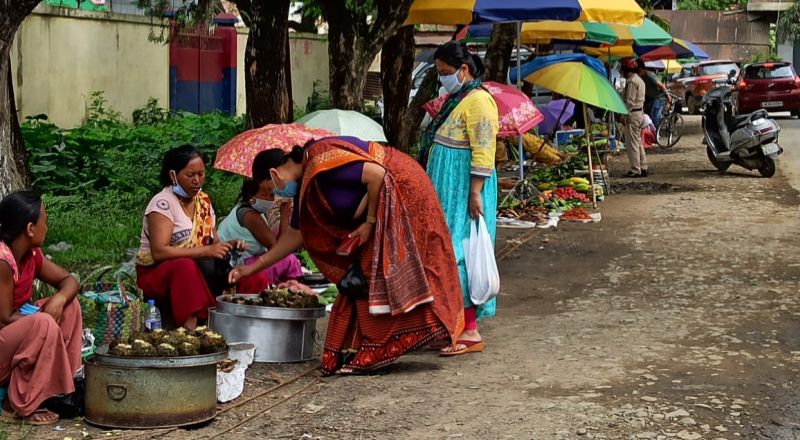 (PHOTO: IFP)
One Ebecha (name changed), a 40 year-old-from New Checkon used to sell fruits at Khwairamband Bazar, but stopped after the lockdown as she ran out of supplies. To continue selling fruits at her locality, she collected vegetables from Khoijuman in Bishnupur district and started selling vegetables in front of her home.
"As many others in my locality also started selling vegetables in the street, I shifted my shop to a spot at Porompat DC road, Imphal East. Due to the increasing number of vegetable sellers, earnings have come down and prices of vegetables have shot up. On the other hand, the fare of hiring vehicles has increased; the travel expense between Imphal to Khoijuman cost around Rs 600," Ebecha said.
One Akhem Sarju, a 60-year-old man, who hails from Mayang Imphal, said he was a construction worker, but started selling dried fish after the lockdown, particularly at Singjamei and Keishampat areas.
Advertisement
"Struggling for my family by riding a bicycle and selling dry fish is never enough but at least we are not hungry," he said, adding that his wife has also started selling vegetables in front of their house.
As the people stayed at homes, schools closed and day-care facilities shut down to combat COVID-19, the daily challenges posed by the pandemic in a household can be overwhelming. The requirements and needs for children are increasing on a daily basis. Parents cannot stop providing education for children even if the schools are closed.
The Manipur state government announced the closure of Ima Keithel on April 21, 2021, as a preventive measure amid the COVID-19 pandemic outbreak. The market has since remained closed.
As per Manipur economic census reports 2020-2021 of the Economics and Statistics department, the state has two types of economic activities - agricultural and non-agricultural.  A total of 50,435 workers are engaged in agriculture and 406,755 in non-agricultural activities. Similarly, 151,330 residents are into retail trade, of which 52,966 are women who run the retail businesses.
The state domestic product for 2019-20 is said to be Rs 194,840 lakh as per the economic census reports, and it indicates that the average daily state domestic product is Rs 353. There are 6,522 license holding vendors under Imphal Municipal Corporation. Of them, 3,614 license holding women vendors sit at Nupi Keithel (1,690 at Purana Keithel, 1,196 at New Market and 728 at Laxmi Keithel) in Imphal city.
When the pandemic struck, the state government saw marketplaces as the most vulnerable places but did not ensure effective measures for women vendors to trade safely without facing health risks. Today, almost all women vendors of the market are selling vegetables and fruits in their localities to survive.
Advertisement