Student body seeks improved infrastructure in government schools
The Socialist Students' Union of Manipur has sought the state government's attention for upgrading the library and lab among other infrastructure in government schools in Manipur.
---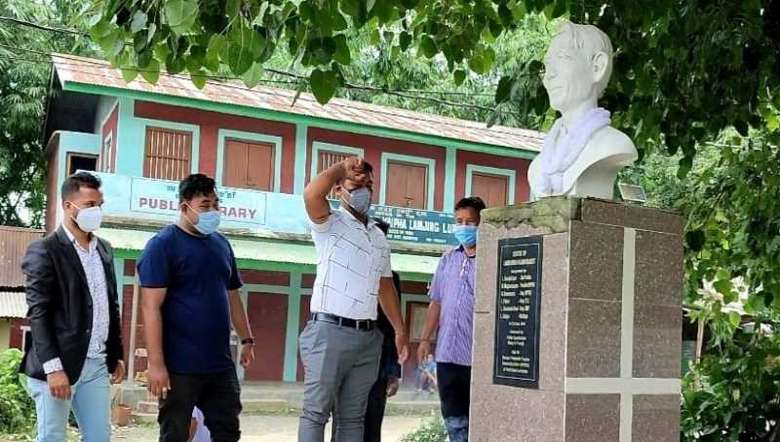 Socialist Students' Union of Manipur (Photo: IFP)
---
There is need of updating infrastructures, library and laboratory of government schools ahead of increasing the student intake capacities to give quality education to students, said Socialist Students' Union of Manipur (SSUM) president S Yaima.
The SSUM president made the statement during the inauguration of a month-long observance of Hijam Irabot at the Irabot Ningshing Khubam, Leimaram Shanti Bazar, Bishnupur on Wednesday.
The event was jointly organised by SSUM, All Meetei-Pangal Students' Union of Manipur (AMPSUM), Manipur Proletariat Peoples' Democratic Union (MPPDU) and Leimram Yaipha Lamjing Lup (LYLL).
Yaima said that the people of Manipur should not forget the ideology and efforts taken up by Lamyanba Irabot to make Manipur an egalitarian society.
In the present status of the state, it is a must for all to follow the footsteps in making an egalitarian society and a self-reliant state on consumable products, he added. He pointed out that some government schools in Imphal areas got a good reputation and many students are even struggling to get admitted in those schools.
However, most of the government schools in rural areas are in dilapidated conditions and the students choose private schools over those government schools, he added.
Lauding the government for increasing the intake capacity of those government schools in Imphal areas considering the demands of the students, he pointed out that the infrastructure, library and laboratory of those schools are outdated. 
He urged the state government to look into the matter and take up necessary measures at the earliest and make Manipur move forward in education sector.
In connection with the month-long observation, the organisers have announced to distribute poultry (chicken and ducks) to five selected unemployed youths of Manipur to generate income. 
Face masks and hand sanitizers were also distributed to the villagers of Leimaram through their local body LYLL during the function.
First Published:
Sept. 1, 2021, 6:59 p.m.