Braving the rain, the 44 Assam Rifles personnel marched through the town holding banner to promote and spread awareness on Covid-19 vaccination and ensure maximum number of beneficiaries in Tamenglong district on Monday.
Taking out an innovative vaccination drive, the troops played audio messages in the local language and parodies of popular Hindi songs in order to draw the attention of residents. The medical staff of the unit also provided medical guidance to the masses and carried out sanitisation of Jadonang Park which is currently under renovation.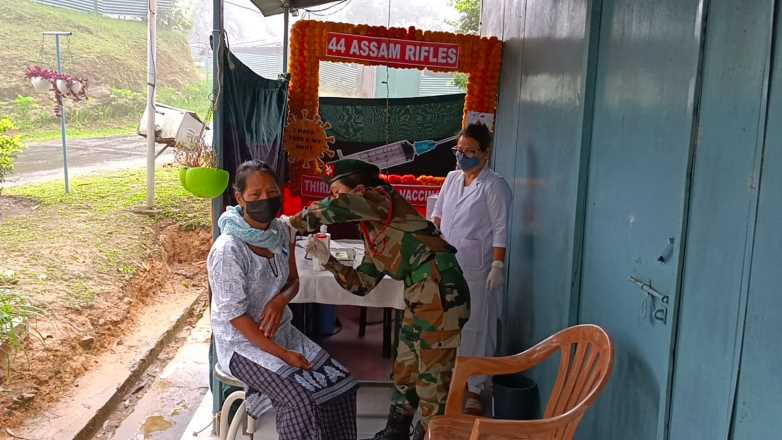 Advertisement
The troops also displayed Helpline numbers 9862053455 and 03877267227 at which any individual can seek vaccination or expert medical advice related to COVID-19.  And information about the benefits of vaccination was relayed to dispel the rumours surrounding the vaccines and motivate people with doubts and apprehension to get vaccinated.
It may be mentioned here that the AR battalion along with the Health department, Covid task force and community leaders have been actively promoting vaccination among the local populace, and Covid vaccination sessions are conducted regularly every Monday at the battalion headquarter.
Besides organising several mobile vaccination camps in remote areas of the district for people with limited access to medical facilities, the unit has also conducted a total of 31 COVID vaccination sessions across Tamenglong and Kangpokpi districts. And an approximate total of 2,000 people have been vaccinated during the sessions.
Advertisement
Advertisement