Banking services permitted on Monday, Wednesday, Friday during 10-day curfew in Manipur
The Manipur government has exempted several more activities from the purview of 10-day total curfew in the state.
---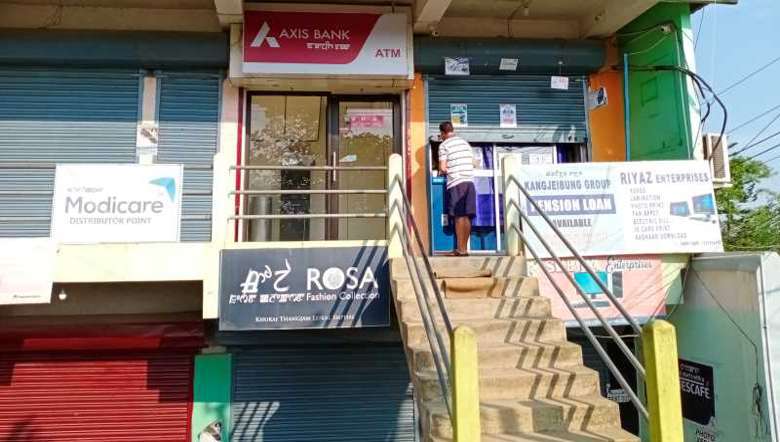 (File Photo: IFP)
---
The Manipur government on Monday issued an additional list of permitted activities during the 10-day total curfew imposed in the state. It includes banking services with limited staff on Monday, Wednesday and Friday, according to the official notification.
The additional permitted activities during the curfew as per the order issued by chairman of the State Executive Committee Rajesh Kumar are:
1. Post offices with minimal staff for urgent office work
2. Delivery and e-commerce
3. Veterinary and animal husbandry
4. Collection and home delivery of milk
5. Feeding of animals and birds in government farms
6. Banking services with limited staff on Monday, Wednesday and Friday from 10 am to 2.30 pm only for urgent government and non-government transactions
7. ATM services, including refilling of cash in ATMs
8. The order also permits personnel of Consumer Affairs, Food and Public Distribution, and Food Corporation of India with minimum staff
9. Continuation of tree plantations for forest department
10. Movement for feeding animals in the Zoo and National Park
11. Officials and workers of road projects taken up by NHIDCL and officials and workers of road projects taken up by Asian Development Bank
12. The order also exempts officials and workers of Railway Projects in the state.
Rajesh Kumar also instructed deputy commissioners to issue necessary orders and superintendents of police to take necessary action to implement the orders strictly.
Ten-day total curfew is being imposed in the state since Sunday (July 18) in the effort towards containing the spread of the coronavirus attack across the state. 
Read More News from Manipur
(The Imphal Free Press is now on Telegram. Join IFP News Update Group and stay updated with the latest news and impact stories)
First Published:
July 19, 2021, 7:50 p.m.