Northeast
Six drug traffickers arrested in Imphal East
Heroin powder worth Rs 55.2 lakh in the international market was seized from six drug traffickers by the Imphal East Police.
Updated on 18 Jul 2021, 7:40 pm
Imphal East district police on Sunday arrested six drug traffickers in connection with the seizing of heroin powder estimated to be worth around Rs 55.2 lakh in the international market, said SP, Imphal East N Herojit Meetei on Sunday.
The SP was speaking in a press conference held at his office conference hall located at Porompat, Imphal East district.
The six drug traffickers have been identified as one Washim Akram, 21, son of Md Sirajuddin of Mayang Imphal, presently staying at Hatta Golapati, Imphal East; Lemba Yumkhaibam, 26, son of Md Khomei of New Checkon, Imphal East district; Ningthoukhongjam Nilachandra Singh, 27, son of N Phulindro Singh of Checkon Mandop Leirak, Imphal East; Rijiwan Khan, 26, son of Ibrahim of Lilong Khunou, Thoubal district; Tongkhojang Baite, 33, son of Thongkhojam Baite of Maojang Village, Tengnoupal and Hemkhomang Baite, 27, son of Jamhol Baite of Moreh ward number-I, Tengnoupal.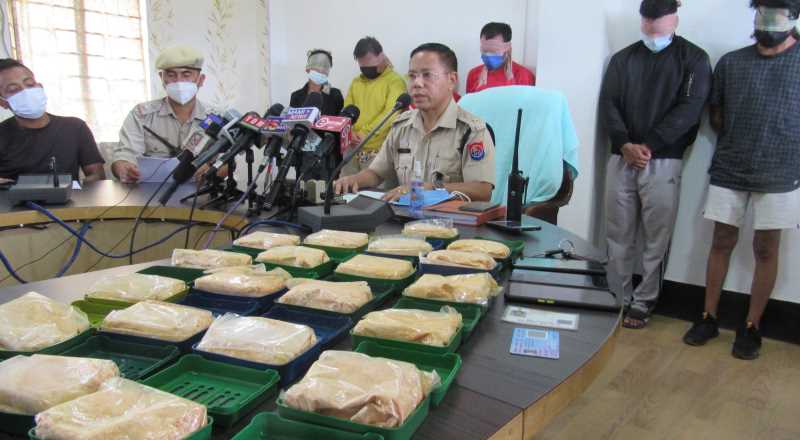 The SP said that based on reliable information, a combined team of Narcotics police personnel, Imphal East led by officer-in-charge, narcotics cell, Imphal East Kh Devkumar, and a team of Irilbung Police led by ASI Md Tamijur Rahman along with an executive magistrate of the district and volunteers of Youth Athletic Development Association (YADA) of Khergao, Imphal East had conducted frisking and checking operation in Soibam Leikai area near Citizens' Club.
During the operation, Washim Akram and Lemba Yumkhaibam were arrested while 20 soap cases of heroin powder and one PAN card in the name of one Washim Akram were seized from his possession by observing formalities. Following disclosure from Washim, two more individuals, Nilachandra and Rijiwan were arrested at Singjamei Bazaar. A yellow-coloured Vespa scooter bearing registration number MN01A-D1240 driven by them and one white-coloured Realme cell phone with a SIM card were seized, the SP said.
The SP further said that following the disclosure of Nilachandra, two more persons Tongkhojang and Hemkhomang were arrested from Kakwa Bazaar near Vishal mart on the same day. One blue-coloured Oppo cell phone along with SIM card and one Aadhaar card bearing number 221242120540 in the name of Thongkhojam Baite were seized, he said.
The arrested persons along with the seized items have been handed over to officer-in-charge, Porompat police station for further actions against them, the SP said.
Conveying appreciation to YADA for the assistance provided to the district police in nabbing the drug traffickers, the SP also made a public appeal for cooperation in order to root out drugs for a drug-free society.
Read More News from Manipur
(The Imphal Free Press is now on Telegram. Join IFP News Update Group and stay updated with the latest news and impact stories)
First published:18 Jul 2021, 7:01 pm
Tags: