Farmers facing drought-like situation in Manipur's Chingjaroi village
Paddy fields are drying out and households running behind the sowing season due to the late monsoon this year.
---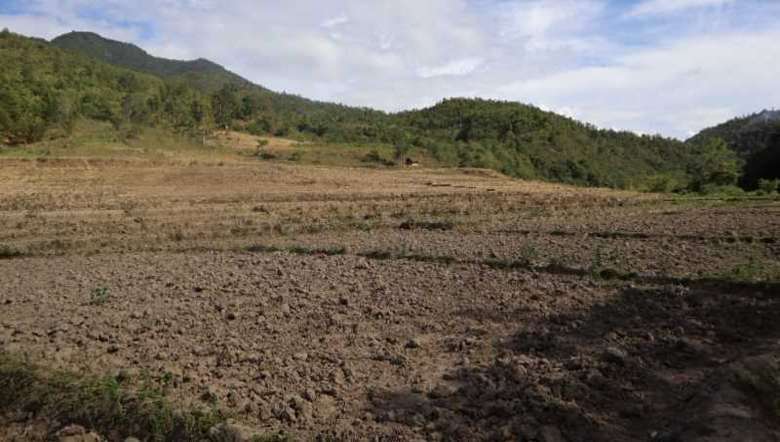 (Photo: Ricky Angkang_IFP)
---
Manipur's Chingjaroi village in Ukhrul district is facing a drought-like situation with paddy fields drying out and scores of households running behind the sowing season reportedly due to the delayed arrival of monsoon this year.
Of the 29 paddy fields, 26 are lying parched with no water for irrigation, as the water level in rivers and streams have declined and monsoon delayed.
"Of the total 29 paddy fields, 26 have dried up. Even if rain comes, the farmers are running behind time as the paddy saplings have all been dried up. The streams are running dry and the farmers are working without water," Chingjaroi Khullen youth president AS Roviso lamented.
Although it is already that time of the year when villagers organise their post sowing feasts, they are still grappling against nature's blow. Uncertainty looms over the village.
Adding to their water woes is the dilemma of deciding the right time to sow new paddy seeds and transplanting them. Normally, it takes at least 30 days for the grain to sprout after they are sown. But the soil is left dry for a long time and it will require an additional period of time for it to absorb moisture even after receiving proper rainfall.
One R Khasilew, a 67-year-old farmer hailing from Chingjaroi khullen village told the Imphal Free Press that they have neither ploughed nor sowed the fields due to the drought-like situation.
"How would a poor farmer tide over these sudden unprecedented hardships?" she said.
Another farmer, 45-year-old Awon, said that, with no rainfall, their hopes are dashed by the parched paddy field.
The drought-like situation has affected Chingjaroi Khullen, Chingjaroi Ngachaphung and Chingjaroi CV, the three sister villages situated at a remote north of Ukhrul district under Chingai assembly constituency. Together, they consist of over 1,000 households.
Some of the paddy fields hit by drought-like situations are Rakola, Khankhapala, Tschiizanla, Ngarula, Kavatila, Ngalangla, Alinro, Kazankra, Kashapala, Raziila, Takula, Kavapala, Taruphula, Sasadan, Ngzeidan, Ralewkhra, Kaphusuila, Vonzie, Aranshela, Ralinghor, Ngsola, Ashezii, Shedievanpoda, Avanchiipo and Marala, Angdopa, Rachannikho Apo, Angdopa, Ashashi Apo, Tarozhu etc.
The Chingjaroi Khullen youth president said around 100 households have not sowed a single paddy plant as their fields are dried up.
Chingjaroi CV village secretary Rocky Soro also said that around 30 cultivators are in the lists of families that have recorded not a single crop plantation.
"Shidewvan Apodo, one of the largest fields, is among the worst affected. Around 8,000 tins are harvested annually. It is owned by around 160 cultivators!" he said.
With agriculture being their main occupation and rice as their staple food, sustaining their families for an entire year would be an uphill task for the villagers of Chingjaroi in the prevailing condition.
"10 households have not planted even a stalk of rice plant due to acute scarcity of water," Chingjaroi Ngachaphung village headman Ngazek lamented as he sought the helping hands of the authorities concerned.
Failure of crops also pose several other serious challenges like child's education and related activities, family expenses, and meeting emergency situations as the little money they earn would be spent towards feeding the family.
With the second wave of the pandemic and now the threat of the third wave looming large over their lives, the villagers are faced with several challenges.
June is the right time for paddy cultivation, but apart from the problem of drought-like situation in the villag, with the exception of a few, many fields in the village lack proper irrigation system. With no proper irrigation system in place, though the place is blessed with rich vegetation, the fields have become barren today.
Given the prevailing situation in the absence of viable alternatives, the helpless villagers hope for help from the government.
(The Imphal Free Press is now on Telegram. Join IFP News Update Group and stay updated with the latest news and impact stories)
First Published:
July 17, 2021, 7:02 p.m.