Driven by passion, young man brings fun-filled education to old village folks in Manipur's Kamjong
It's a bright new dawn for these 70 plus year-old men and women who were introduced into the world of a new learning experience, thanks to 28-year-old Sorinthan Haorei, who hails from remote Chatric village in Kamjong district of Manipur.
---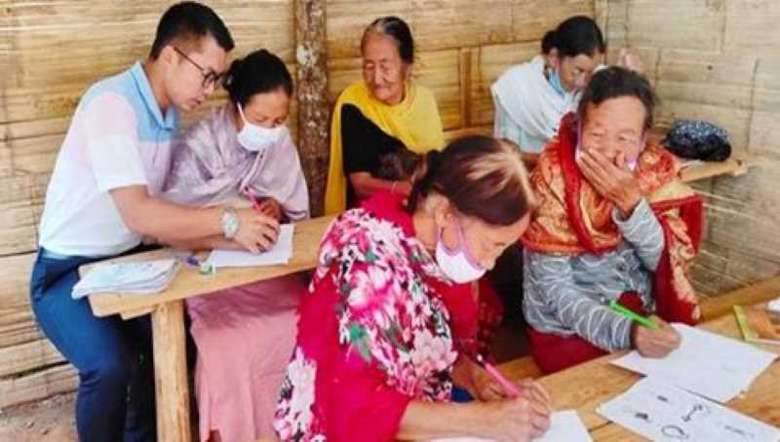 Senior citizens get a taste of education at Chatric village in Kamjong district of Manipur (Photo: Ricky Angkang_ IFP)
---
It is half-past five in the morning. Excited and nervous, a few of them sat in a room made of bamboo, maintaining a good physical distance from each other and trying to get a good grip of pencil and paper. Their enthusiasm to learn helped them overcome the initial nervousness.
It's a bright new dawn for these 70 plus year-old men and women who were introduced into the world of a new learning experience, thanks to 28-year-old Sorinthan Haorei, who hails from remote Chatric village in Kamjong district of Manipur.
Brimming with passion, young Sorinthan often walked extra miles to teach the often ignored section of society. He voluntarily took up adult education, offering a learning opportunity to those senior citizens who had never attended formal schooling in their life.
The ongoing senior citizens class being conducted in the far-east village along the India-Myanmar border, perhaps, is being hailed by many as a right step towards bringing education at the doorsteps of the long deprived group.
Holding a bachelor's degree in political science honours from the Delhi University and masters in Public Administration through IGNOU, Sorinthan intends to expand his outreach mission in rural areas where the bulk of the population resides.
Speaking exclusively to Imphal Free Press, Sorinthan said that currently there are about 20 senior citizens attending the classes. "The classes start at 6 am till 7:30 am - Monday to Friday. They were already seated at 5:30 am. Some had to willingly skip sleep over in fields to do their homework," he said.
More people will soon join the session as he plans to expand it to nearby villages. 
Every day one-and half-hour is specifically devoted for them where interactions on topics or issues of their interests are discussed prior to starting the class.
"It is pure fun learning with no pressure. We started with the basics amidst laughter. That's how they enjoy learning," Sorinthan said.
Talking about his mission statement and the future course of action, Sorinthan, who is the former president of Tangkhul Katamnao Long Delhi (TKLD) said that he decided to embark on the journey of "Senior Citizens Education" with the sole aim to improvise their mental, physical, emotional and social well-being by creating a platform for them to interact and socialise. 
Most of them live alone or are engaged in agricultural activities. As such they hardly have time to socialise, he said, adding that he hopes to give them basic education which they lacked as most of them didn't go to school. Similar education centric programmes will be launched for youths and couples in the days to come, he pointed out as he unveils his mission plans. 
"I have always been passionate to serve the society especially in rural areas which have been neglected for so long. Do your bit to change our society. Anyone who has the passion and commitment to help others can always serve one's own individual capacity. Let us stop depending on others to serve. Love and take care of the neglected ones," he said.
Majority of parents in villages or rural areas are illiterate. Most of them have had no formal education. This factor affects the lives of children as many parents fail to see through the psychology and interests of their wards. The problem is more with parents whose wards are in their adolescent stage, though not every problem is fully attributed to parent lacking in formal education. Poor parents, who could not support their children's education, had to contend with the completion of class ten and pre-university.
The COVID pandemic added to the worrying situation as educational institutions remain closed.
Let alone imparting quality education, many government schools situated in hill districts have been facing the heat of acute shortage of teachers. Given the acute teacher crunch, government schools students shifting to private schools is likely to increase.
If the state government is serious about government schools and the future of the students, it must put an end to the practice of frequent transfer and posting of teachers, in addition to change in recruitment and selection of teachers as in most cases duly assigned teachers were found missing as most of them entrust their duties to others as substitutes.
Post the easing of COVID curbs, only time will tell how the state government and the education department in particular would address the problems in education of children in rural areas. 
First Published:
June 13, 2021, 4:18 p.m.