COVID-19
Temporary health centre opened at Sagolband for COVID-19 vaccination
Around 1,000 people had enrolled to take the first jab of COVID-19 vaccine.
Updated on 30 Apr 2021, 1:22 pm
To ensure every citizen above 45 years of age gets vaccinated with COVID-19 vaccine, a temporary branch of primary health centre was opened at Sagolband Bijoy Govind, Imphal on Friday.

With cases rising across the country, including Manipur, the government has been taking measures to control the rise of infection among the people, stated a release issued by MLA Sagolband assembly constituency RK Imo.
Many places are declared as containment zones and vaccination process is being carried out in full swing in the state. But the people's corporation in following SOPs and guidelines are still much needed to combat the pandemic, it stated.

Imo stated that vaccination is one such effective means through which the people can defeat the dreaded virus. The people were facing the lack of confidence during the initial phase of vaccination; however, with the right kind of advice and guidance, a lot more have come forward to get inoculated, particularly during this second wave of COVID-19 which seems to be more dangerous than the previous one, it added.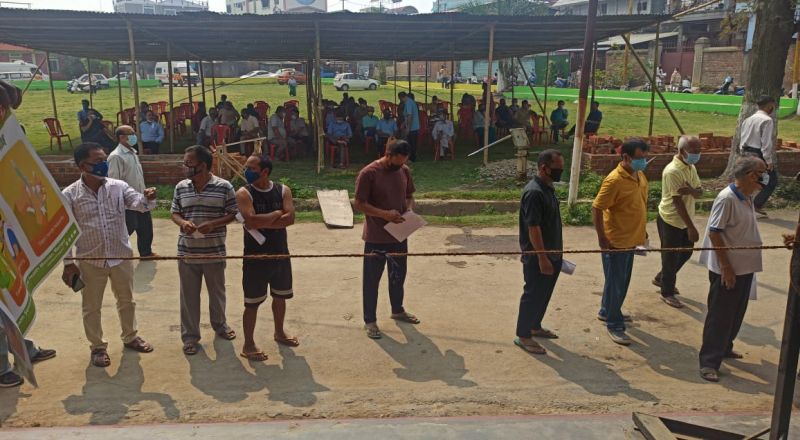 (PHOTO: IFP)

"As a representative of Sagolband assembly constituency, it became important for me to facilitate and help the people to get vaccinated," he said.

It further stated that Sagolband is an urban area and there is no PHC/UHC for the people to avail these benefits. They have to go to other areas like Kwakeithel, Khumbong to get vaccinated.
The release stated that the proposal was made to open an UHC in Sagolband and it is under active consideration at the Central Ministry. But for time being, a temporary PHC was set up to administer the vaccines for the welfare of the people by considering the prevailing scenario, it added.

Around 1,000 people had enrolled to take the first jab of COVID-19 vaccine, he added while appreciating the members of Sagolband Constituency Progressive Committee for guiding and helping in enrolling all those who are coming to vaccinate themselves.

He assured to cover the vaccination of almost all the population above 45 years of agef from Sagolband in the next few days, which in turn will help curb the spread of Covid, it stated. The service may be availed by people living in nearby places of Sagolband assembly constituency, it added.
ALSO READ:
First published:30 Apr 2021, 1:22 pm
Tags: