Two persons suspected of being involved in the demolition of a concrete bridge constructed in Kangpokpi near Mt Koubru. They were produced at JMIC court in kangpokpi and remanded for police custody, said DIG range III, Kamei Angam Romanus.
He was speaking in a press conference held at the conference hall of police headquarter, Imphal West, Babupara, Imphal on Monday.
Concerning the fire which broke out at the chowkidar quarter of the Sanamahi Laishang located at Jangol village near Koubru Leikha under Kangpokpi police station, the incident has no connection to the Koubru issue, he said. Police have learnt that it was a separate incident which occurred due to a land dispute among two brothers, he added.
In connection with the demolition of a bride, one Tonggoulen Kipgen, 24, son of Thangjang Kipgen of Saijang village and one Paokai Boulsom, 29, son of late Thangpu Boulsom of Ichaigojang village both from Kangpokpi district were arrested.
Angam said as the investigation of the case is continuing, it is yet to be determined whether the two suspects belong to some militant groups, gangs or individuals.
Advertisement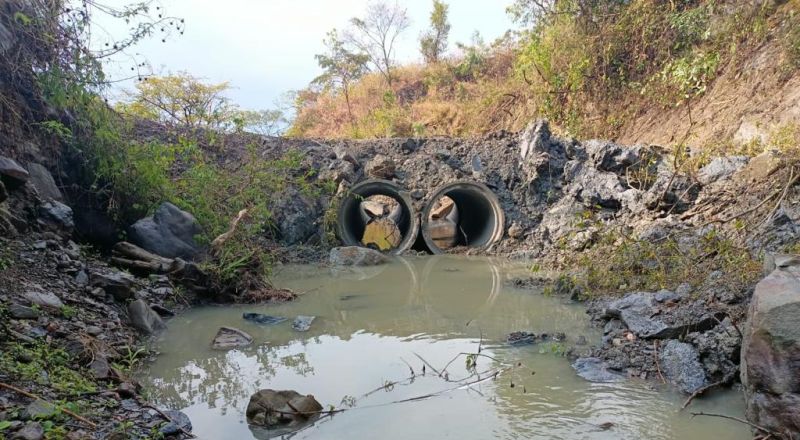 (PHOTO: IFP)
Last Wednesday evening, the Police received a report that 'A Songpijang-Manhjol Bridge', under Gamnom Sapormeina police station, Kangpokpi district, located on the way to Mt Koubru was damaged by miscreants in the intervening night of April 13 and 14, he said.
A suo-moto case under FIR number 9(4)2021 G.SPM PS u/s 431/186/34 IPC and 3 of PDPP Act was registered for investigation in connection with the incident, he added.
The two suspects were picked up during the intervening night of Friday and Saturday. Investigation of the case is still continuing and those who were involved in the case will be arrested soon, said Angam.
The police personnel have made a road diversion for pilgrims and the department concerned has also constructed a diversion bridge where light vehicles can pass on, he further said.
As the bridge is located at an isolated place, Police personnel from the base camp located at A Songpijang were not able to intervene during the time of the incident.
Advertisement
Precautionary measures have been taken up by the Police department for the safety of the pilgrims, he further said adding, adequate police personnel are also deputed at Lai pukhri located at Mt Koubru.
Meanwhile, Chief Minister N Biren Singh posted on his Facebook page that the construction of a diversion road along Awang Koubru Ashuppa Ebudhou has been completed.
"Trust the present government, let us not create communalism, will not tolerate against the culprits involved during the incident," it stated.
Concerning the fire which broke out at the chowkidar quarter of the Sanamahi Laishang, Police received a report on Thursday evening that some miscreants caused damages to properties worth approximately Rs 1,300 at the quarter on the night before, he said. A suo-moto case has been registered under FIR number 17(4)2021 LPI-PS u/s 435/34 IPC in connection with the incident, he added.
During the course of investigation, two suspects namely Seiminlen Kipgen, 32, and Seitinsat Kipgen, 31, both sons of late Otkhothang Kipgen of Jangmol village were arrested, Angam said. Both the suspects were produced before the court of JMIC-Kangpokpi and remanded to police custody for 4 days till Tuesday, he added.
ALSO READ:
Advertisement