Exclusive
Soilless farming with focus on sustainability slowly gaining ground in Manipur
Neeraj Yumnam of Kongpal Kshetri Leikai, Porompat, who did his MSc in Agronomy after completing BSc Agriculture has been carrying out the 'hydroponic' method of farming.
Updated on 10 Mar 2021, 7:23 pm
In less than two years, 30-year-old Neeraj Yumnam of Kongpal Kshetri Leikai, Porompat in Imphal East district of Manipur in Northeast India has successfully transformed the unused space of his rooftop into a thriving environment for exotic vegetables.
Interestingly, the rows of green leafy vegetables that now spread across 1000 square ft on his rooftop are not grown in soil but in water.
Neeraj, who did his MSc in Agronomy after completing BSc Agriculture has been carrying out the 'hydroponic' method of farming, which is considerably a new technology especially in a state like Manipur. He is now working as an entrepreneur after starting 'Urban Farms Manipur' on his rooftop in June 2019.
At Urban Farms Manipur, we grow exotic vegetables like Bokchoy, Napa Cabbage, Lettuce among others in a hydroponic setup, Neeraj said while speaking exclusively to the Imphal Free Press.
Explaining the hydroponic setup, he maintained that the nutrients required by the plants are directly fed to the plants through the water in which they are planted.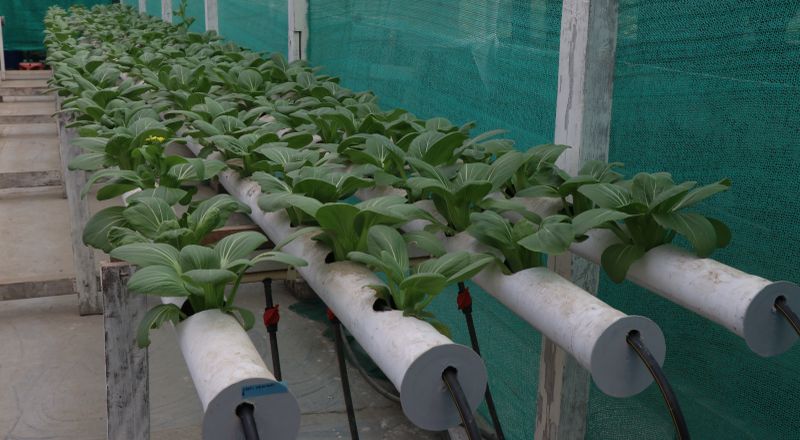 (PHOTO: IFP)
Big water pipes made in a closed loop are being used as growing channels. Drip lines connected to the growing channel provide the water mixed with nutrients and the water is circulated in the closed loop throughout the growing system. A substrate is attached to the roots for the plants to absorb the nutrients from the water, he stated.
Further highlighting the advantages of hydroponic farming, Neeraj said that it saves 80-90 per cent water compared to conventional farming as the water is circulated in a closed loop. Most importantly, in hydroponic, we can achieve precision farming as specific amount of nutrients according to the need of the plants as per their vegetative stage are directly provided to the roots and the plants do not spend energy in expanding their roots to get nutrients, he said, adding that the hydroponic is also one way people can safeguard the environment as no huge machineries are being used and does not generate carbon footprint.
Prior to setting out on his venture as an entrepreneur, Neeraj after completing his masters used to teach at Lovely Professional University (LPU), Punjab, which he quit as he wanted to focus on hydroponic. He later worked as a junior conservation officer under the Endangered Species Recovery Programme of Wildlife Institute of India from December 2017 to March 2019, which also he left. "During that time while I was posted at Keibul Lamjao National Park, I took the opportunity to study more about the Loktak Lake and the flora grown there as I take keen interest in hydroponic," he said.
The only downside of hydroponic, according to Neeraj is that it can incur huge investment costs.
"As of now, hydroponic is not accessible to all. Nevertheless, one can always start small for a kitchen garden or as a hobby grower and later scale up the setup if they want. I had only about 50 planters when I first started out in 2019," he said.
Saying that many students of agriculture lack interest in growing food by applying the knowledge they have gained, he opined that today's youths are turning away from agriculture as traditional agriculture requires high labour.
Pointing out that there are various concerns whether hydroponic will replace farming in soil, he maintained that it won't be so as hydroponic is more concentrated towards short duration crops. It is just an alternative method of farming just like organic farming or permaculture, he said.
"Nevertheless, I urge the people to focus on the resources already available to them. Permaculture or food forest would be the best method for the people living in hilly areas. Likewise, if a person has a large farm going organic by implementing integrated farming would be the best. And for those who do not have land, that is where hydroponic comes in. When we go for the right agricultural practice, we have the ability to mitigate climate change. Hydroponic has huge potential because of its sustainability," Neeraj stated.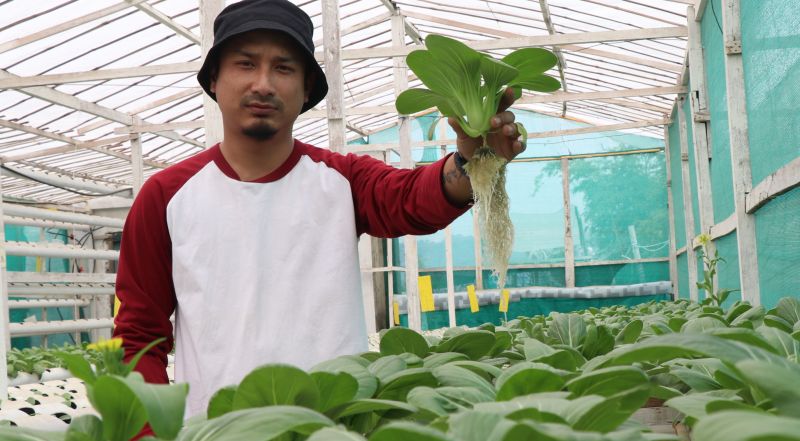 (PHOTO: IFP)
Currently, he also provides training programmes and knowledge sharing sessions in small batches for those who are interested in hydroponic. Some of those who have been trained under him have also started hydroponic, he said.
As the National Education Policy focuses on the importance of giving education out of classrooms and enhancing skills, he suggested that it would be a good opportunity for the students to learn innovative methods of farming as well.
The products of his farm are being sold online through social media and in a few restaurants. Neeraj strongly believes that his venture will be successful once his products reach Ima Market.
Meanwhile, block technology manager, Agricultural Technology Management Agency (ATMA), District Agriculture Office Imphal West, Mangsatabam Nena said that even though it has prospects, hydroponic is not yet popularised in the state.
However, if there is a substantial number of progressive farmers, who are serious and interested in hydroponic, there can be provisions for organising training and workshops according to the needs of the farmers, she added.
ALSO READ:
First published:9 Mar 2021, 3:55 pm
Tags: