Exclusive
Endangered Tarao left with only one man who can play traditional instruments, folk songs
Tarao is an endangered and marginalised tribe in Manipur with a population of less than 900 presently.
Updated on 7 Mar 2021, 3:51 pm
Ch Lamtachao, the only surviving Tarao who can play Tarao traditional instruments and sing folk songs (PHOTO: IFP)
In his late sixties, the chief of Heikakpokpi village in Tengnoupal district of Manipur in Northeast India is being haunted by persistent worry of the culture, traditional musical instruments and folk songs of his tribe vanishing with his passing away.
His moral obligation is no longer confined to the villagers of Heikakpokpi only but to the whole of Tarao people now that he is the only surviving member of the Tarao tribe who can play and make Tarao traditional musical instruments and know the folk songs.
The silver jubilee of Heikakpokpi, a Tarao village located around 48 km from Imphal, was celebrated in 2011, that was when Ch Lamtachao, who went on to become the village chief in 2017, fell in love with the Tarao music, songs and dance.
"When I first started learning the traditional instruments and folk songs in 2011, there were around four-five elders from different villages who could play the traditional instruments and sing the Tarao folk songs. I'm the only one left now as they, including my own brother, have passed away," Lamtachao said in an exclusive interview with the Imphal Free Press.
Tarao is an endangered and marginalised tribe with a population of less than 900 presently. The UNESCO, in 2009, had declared the Tarao language among others as extinct and over the years Tarao with a meagre population distributed sparsely have been struggling to preserve their identity.
Sole Custodian of Tarao folk music
Lamtachao, who has now more or less become the sole custodian of Tarao folk music, expressed sadness that the youths of today are having no interest in Tarao culture and tradition.
"Whatever knowledge I've gained about our culture, music, art forms and history, I want to pass on to the younger generations. My helplessness is that none of the youths are willing to come to learn despite instructions by the chairman of Tarao Cultural Committee. And I'm not able to visit them. I'm just a farmer and there is a lack of financial resources. The thought of Tarao culture and tradition vanishing with my passing away makes me restless," he said.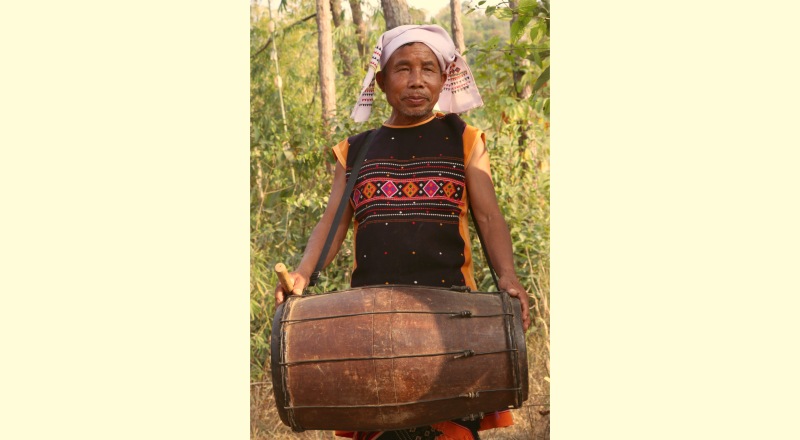 (PHOTO: IFP)
Talking about the instruments, he said that when classified broadly, there are 14 Tarao traditional musical instruments namely 'Saraalting' (Aerophone), 'Khungtring' (Idiophone), 'Darung' (Idiophone), 'Siil Ki' (Idiophone), 'Khungpi', 'Khungruul', 'Daar', 'Sem', 'Khuung' (Membranophone), 'Tari' (Aerophone), 'Theile' (Aerophone), 'Talla' (Chordophone), 'Sananta' (Chordophone) and 'Pek-ul'. All of them have their varied uses, including during celebration, communicating a message, harvesting, storing food grains in granary, warding off birds and pests in fields among others, the Heikakpokpi village chief said.
Interestingly, the 'Talla' of the Tarao is more or less the same as the 'Pena' (fiddle) used by the Meeteis. Lamtachao said that Meidingu (King) Chingthangkhomba (1763-1798 AD) had introduced the use of Pena to the Taraos after he felt that Tarao dance was fascinating while they lack in music component. Since then, the Tarao tribe had used the 'Talla' in five-six dance forms, he added.
As told by him, he has made most of the musical instruments himself and a few he collected or bought from others. Sadly, even Lamtachao is not able to collect or make all of the mentioned musical instruments now. He expressed concern whether those instruments have completely disappeared.
He maintained that his father, who was a traditional healer, would always come home drunk after attending to people and rituals, and sing the folk songs by playing the instruments. "Now, I sometimes feel as if I'm the chosen one to preserve the Tarao musical instruments and folk music. What I ignored as a child when my father sang, kept on echoing in my ears," stated Lamtachao.
"Before the advent of Christianity, there were platforms at functions and gatherings where the instruments, songs and dances were performed. Now, there are no festivals or platforms to showcase the traditional instruments. It cannot remain dormant. I'm hoping that some will take interest like me. Even I'm not someone who has excelled in this field but the love for my culture and identity keeps me moving," he added.
Lamtachao strongly believes that If only the youths of his tribe would take interest in the Tarao traditional instruments, folk songs and culture, his life will be fruitful.
Sacrifice by goddess Sankhu Leima
Meanwhile, chairman of Tarao Cultural Committee, Leikhan Morre Tarao told the Imphal Free Press that there are altogether five Tarao villages in Manipur with a population of 855 in all. However, one of them has been slowly assimilated by larger communities.
"Instead of encouraging us, larger tribes and communities mount pressure on us to convert into their tribe, making Tarao even more jeopardised. Besides, some Taraos have also shunned their identity to become other communities," he said when asked about the small number of Tarao population.
Leikhan Morre further narrated that there is also a myth called 'Khumran Raal' (War of inferno from Awa, present day Myanmar). 'Tumurakpa' of Awa wanted to take the Tarao goddess 'Shanku Leima' for himself and started the 'Khumran Raal' which killed many Taraos. Her lover 'Wangbrel' made it rain to stop the inferno and the villages were inundated for a long time. 'Shanku Leima' gathered the Tarao people in Laimaton in Tengnoupal district but again many Taraos died due to starvation. Later, 'Shanku Leima' threw herself into the water and the water dried, he narrated.
Meanwhile, in history, Meidingu (king) Chingthangkhomba cursed the Tarao not to have more than 20 surnames after they failed to look after the orange plantation at Komlathabi as assigned by the king. MK Priyabrata later reversed the curse, he added.
Leikhan Morre further stated that despite being a small tribe, Tarao has a rich culture and tradition with 20 dance forms, around 125 different songs, 30 patterns of traditional attire and around 19 ornaments for both men and women. Now, all of these items associated with our culture have either vanished or are slowly dying out, he said, adding that one of the major factors for the vanishing culture is the advent of Christianity and at one point of time "we were even prohibited to practice our own culture.""We even discussed how to tide over the threat on our identity and how to save our culture. The first attempt towards recognition of the Tarao was in 1963 when the first Tarao Indigenous Games and Sports along with cultural dance was organised. Also, considering the pressing need to pave a way for preservation of Tarao culture, we started 'Tarao National Conference' which has now been christened as 'Tarao Tribe Union Conference' in 1977.
Unfortunately, the Tarao tribe is financially weak and we cannot hold the conference every year and there has been some gap in between," Leikhan Morre further said.
In a bid to give the much needed thrust to preserve Tarao culture, the chairman maintained that from this year onwards, they are actively putting efforts to organise training cum workshop for the traditional instruments and music so that the youths can learn now that Lamtachao is the only person left. The Tarao Cultural Committee has also decided to organise such training at the village level also. The sad part is that in the past, the youths did not turn up even when the teacher was ready.
Morre said that there are also differences of opinions among the youths. While some ridiculed that the music can be easily created on a keyboard and will be a waste of time to learn the folk instruments, some say that there is an emotional attachment and belongingness towards the traditional instruments and music. Nevertheless, we are sure the training starting from this month will bear some fruit, he expressed confidence.
While the fate of posterity is still unclear, the struggle of the Taraos to increase their population and to preserve their culture still continues and despite the precarious situation, hopes still burn, however feeble, in the hearts of every Tarao.

ALSO READ:
First published:6 Mar 2021, 10:25 am
Tags: