Learning to play a musical instrument smoothly might have been somewhat less demanding compared to manufacturing the musical instrument taking into account the craftsmanship involved to produce the desired sound and to make it presentable. Nevertheless, it must have been an uphill task to make traditional musical instruments that are dying out in the modern age without much support.
Once a full time performer, 63-year-old Nameirakpam Jilatombi of Kwakeithel Haorokchambi in Imphal West has shifted focus to making traditional instruments of Manipur with the mission to preserve them for the future generations.
There is no denying that traditional musical instruments are going out of sight and some of them have vanished.
Speaking exclusively to the Imphal Free Press, Jilatombi opined that change in traditional culture where the people are more adapted to the modern lifestyle and introduction of modern instruments like the guitar are the two biggest factors that pushed the traditional instruments to disappear.
He said that even in rituals, ceremonies and customary practices of most communities, modern instruments have replaced traditional ones, which makes the traditional instruments more vulnerable as they are denied any platform. This denial of platform also resulted in many choosing the modern instruments over the traditional ones, he added.
After associating with theatre music under his brother Nameirakpam Tiken who is the director of Progressive Artistes Laboratory (PAL), Jilatombi said that he wanted to explore and produce the music by using different indigenous instruments of various communities inhabiting the state.
"In 1997, PAL organised a workshop where we learn how to play the traditional instruments like 'Rosem' used mainly by Chothe, Chiru, Kom, Koireng, Lamkang and Aimol and 'Sirangdar' used mainly by Lamkang, Aimol, Chiru and Koireng tribes," he recounted.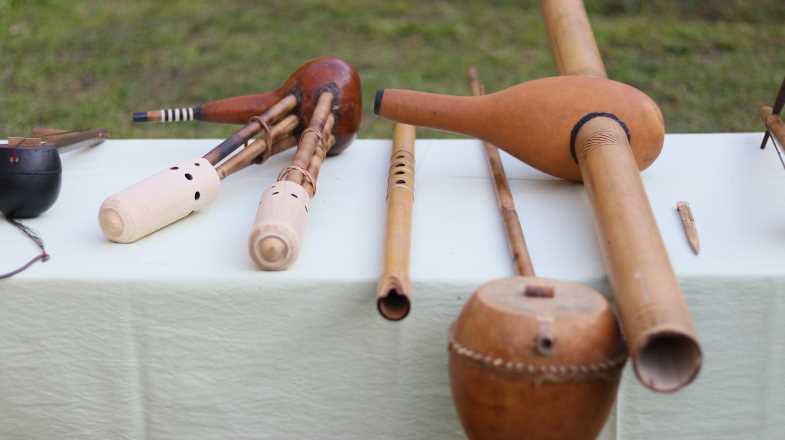 Traditional musical instruments of various communities in Manipur (PHOTO: IFP Image)
"I was already making instruments like Pena by that time and after learning to play the said instruments in the workshop, I was intrigued to know how to make them as well and subsequently learn it from the elders who attended the workshop," he stated.
The traditional instrument maker further told the Imphal Free Press that making an instrument is not an easy task and one has to have the knowledge of music, sculpture and painting among others.
Jilatombi maintained that he wanted to continue further research but lack of financial support has been a major hurdle. He said he was fortunate when he was granted a fellowship in 2012-13 under the Ministry of Culture and was able to do the research and focus on making the instruments by meeting more elders of different communities.