Exclusive
Making a difference to help children grow amid the pandemic
Kshetrimayum Babylee Devi, the head mistress in-charge of Langthabal Kunja Junior High School in Imphal West, has been running a kitchen garden and Thang-Ta classes since April to keep the students occupied.
Updated on 31 Jan 2021, 4:18 am
Thang-Ta classes being conducted at LKJ High School, Imphal West (Photo: IFP)
Colleges and schools are now opened. Normal classes for senior students have begun. But closure of educational institutions for nearly 10 months since the Coronavirus pandemic hit the state has left several school students idle and the school premises unattended. However, a teacher of a school in Imphal West district of Manipur in Northeast India made a difference as she kept the school humming with activities throughout the pandemic period.
Kshetrimayum Babylee Devi, the head mistress in-charge of Langthabal Kunja Junior High School in Imphal West, has been running Thang-Ta classes every morning since April to keep the students occupied. She also created a vegetable garden within the school premises with an objective to impart life skill and create a sense of responsibility among children of the school.
"Everyone's mind is occupied with fear of coronavirus with the onset of the pandemic since March 2020. Being a mother of three young children, I also experience the fear. Thinking about school children staying idle the whole day, Thang-Ta class was initiated in association with the Martial Art and Cultural Foundation," Babylee told Imphal Free Press in an exclusive interview.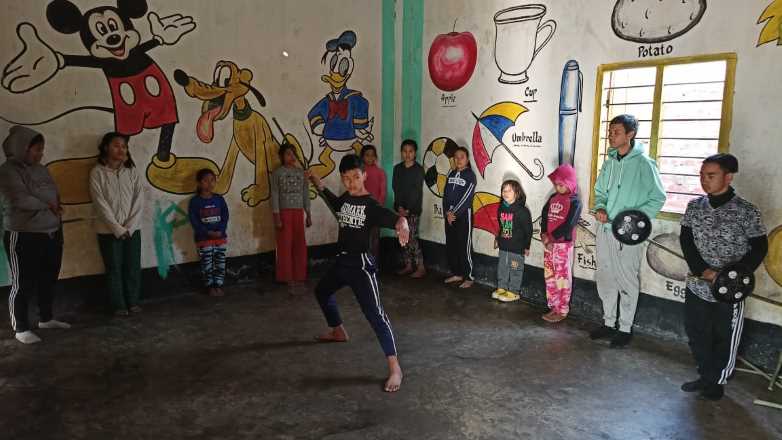 Thang-Ta classes for children (PHOTO: IFP)
Babylee said that altogether around 50 children took part in the Thang-Ta classes that begin from 6 to 7 in the morning daily. Apart from the school children, kids staying nearby joined the class.
"Amid the risk I started the classes to instill moral values and keep them fit. Fortunately, not a single child was affected by the Coronavirus. I am hoping to continue until the school for junior classes are re-opened," she stated.
To perform both activities successfully she has to remain in school most of the time. She visited her school at least twice in a day.
"With my house near the school, a distance of less than 2 km, has enabled me to carry these activities successfully. Usually, I reach school at 6 am mainly to water the plant and Thang-Ta classes and stays till around 9 am. I return home for household chores after the classes and come back in the evening. This school with just 84 students is like my second home," she narrated.
Apart from conducting Thang-Ta classes, she also tends the school garden regularly.
Babylee, who received the National Youth Award given by Youth Affairs and Sports Ministry in 2011, said that her main target of developing a kitchen garden during pandemic is to impart lesson of self-responsibilities to children. She planted different varieties of vegetables such as broccoli, coriander, potato, cauliflower, yam and mustard among others. She also dug up a pond to store water.
"The school area is very small. I have decided to plant wherever possible. As the space is limited it was a challenging task. Everything started from scratch."
Babylee started her garden work from preparation of cultivable space by layering it with around 10 small tipper truck of soil, prepare water storage area, bought the nurseries and seeds of the vegetable which she planted.
"Layering of land was carried out with the support of former students of the school. In plantation, the present students took part. Taking the advantage of plantation, I teach them basic science like what is photosynthesis, essence of afforestation, etc," she said.
Babylee said that such informal education would help the children acquire practical knowledge of their studies. They would also develop emotional attachment with the school and create sense of keeping the school clean and beautiful.
"Whatever I have taken up during the pandemic is fruitful. Student who took part in Thang-Ta basic course got the opportunity to perform during the recent visit of home minister Amit Shah," she stated, adding, "All the vegetables we have sown are grown successfully and we have started consuming them as well."
Babylee expressed contentment on being able to do productive work when the state is crippling with the COVID-19 pandemic.
The school has around 84 students from class pre-nursery to 8 and 22 teachers.