Amid the lockdown, essential food items were distributed to socially and economically deprived children at various places in the state by the volunteers of the Wide Angle Social Development Organisation, Manipur Alliance for Child Rights (MACR) in association with 'CRY- Child Rights and You'
As many as 250 children at various places in the state were provided with essential items to cope with the crisis situation. A release stated that it was carried out to reach out to socially and economically deprived children.
The distribution of food items were carried out in and around areas of Patsoi, Namching Kabui Village, New Keithelmanbi Kuki and Meitei Villages, Khonglong Kabui village and Longjang village, it stated. Each child was provided with items such as Rice 10 kg, dal, Skimmed milk, salt, local bori, atta , noodles, edible oil, chengpak (rice flakes), suji, multivitamin syrup etc, the release added.
Young Children become an affected group, as victims of the Covid-19 pandemic in the community, it stated. The prolonged lockdowns, subsequent declaration of containment zones at various localities, complete shutdown of schools and total restriction of playing games and sports immeasurably damage the physical and emotional wellbeing of the children, the release stated. It is high time for the state authority to prepare short-term and long-term interventions to recuperate such damages suffered by the children, it added.
Monetary assistance for people in Lamlai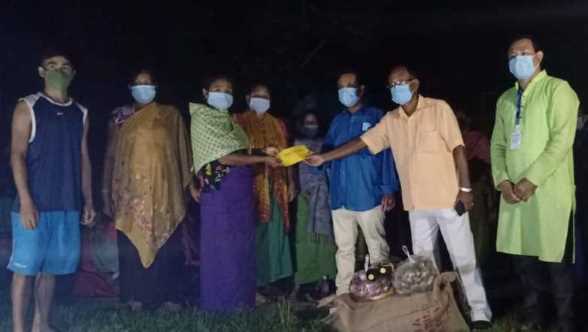 Advertisement
Co-opted member of Manipur Pradesh Congress Committee Achoibam Deben Singh in collaboration with Lamlai block Congress Committee donated essential items and provided monetary assistance to the needy people of Lamlai assembly constituency on Friday evening.
The essential items included rice, dal, edible oil, potato, edible salt. The items were donated to each household of the assembly constituency including Nongpok Sanjenbam Khunou, Sanshabi, Kabongbuk, including community quarantine centers located inside the assembly constituency.
Speaking to the media, Deben said due to the lockdown imposed in the state almost all the people have been suffering. Most people of the assembly constituency are farmers and they have been facing huge impacts, he added.
Although they have vegetables to sell, most of the vegetables perish due to lack of transportation. If the situation continues for the next few months, more donations will be held frequently, Deben stated.
Disinfection drive at Heisnam Leikai
As a part of the effort to cope with the crisis siatuation, the Heisnam Youth Development Organization (HYDO), Thanga on Thursday carried out a disinfection drive by spraying sodium hypochloride and bleaching powder for the second time at Heisnam Leikai in view of the prevailing COVID-19 pandemic. A release stated that the club, HYDO will continuously fight against COVID-19 at Heisnam Leikai. They will also take part in checking the migration of people in Sendra and Hameiband, it added.
Advertisement
Food distribution at Mamang Leikai
On Wednesday, the Mangal Club of Bashikhong Mamang Leikai, led by minister Th Biswajit and his brother, Th Dara Singh distributed essential food items to 30 households under the containment zone area. A release stated that the houses, as they are under a containment zone area, are not permitted to get essential food items. Therefore, Mangal club along with the minister and his brother took the initiative to distribute food items for their sustenance, it stated.
Hand sanitizers for Covid warriors
A total of 39 units amounting to 5.3 litres of alcohol-based herbal hand sanitizer was handed over to the Secretary of Indian Red Cross Society, Manipur State Branch, RK Nimai Singh by senior principal scientist Huidrom Birkumar Singh on Wednesday. A release stated that it was provided in continuation of the free distribution programme of hand sanitizer of CSIR-NEIST branch laboratory to the COVID-19 warriors of Manipur. The sanitizers are formulated and produced by CSIR-North East Institute of Science & Technology, Branch Laboratory, Lamphelpat, it stated.
Advertisement