Lockdown-curfew brings life to grinding halt in Manipur
Highways and roads in Imphal and rest of the districts in the state bore a completely barren look with shops and bazaar areas remaining shut.
---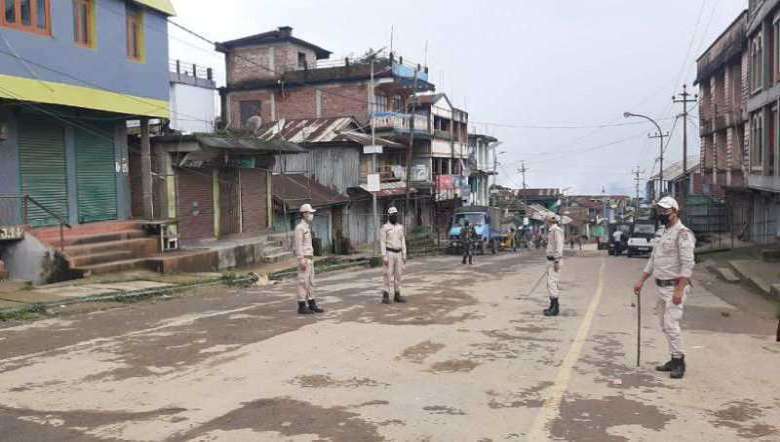 Tamenglong, Manipur (PHOTO: IFP)
---
Life in Manipur has come to a complete standstill yet again as the number of spiralling COVID-19 patients included six people with no travel history outside the state and the government announced seven-day total lockdown-curfew from 2 pm on Thursday. Highways and roads in Imphal and rest of the districts in the state bore a completely barren look with shops and bazaar areas remaining shut. The lockdown-curfew in the state will remain effective until further orders.
The state on Friday reported six positive casesno travel history outside the stateamong the 31 new COVID-19 positive cases with total tally of 2,146. Amid the news, the recent mad rush of shoppers and traffic jams that was witnessed in the city, following the announcement of curfew, came to a grinding halt as most people remained indoors on Friday. Except for activities related to essential services which have been exempted from the purview of the lockdown, movement of private vehicles and all businesses came to a complete standstill.
The lockdown announcement was made by the chief minister in view of the rise in containment zones across the state, particularly in Thoubal, Jiribam and others.
IFP Tamenglong correspondentsaid that the first day of total lock down witnessed the arrest of 10 persons who allegedly violated the statewide restrictions.
The district police collected a sum of Rs 5,000 from the 10 persons. All vehicular movement and commuting were strictly monitored by CRPF jawans and personnel of Manipur Police. All shops and markets except medicine stores were totally closed and office attendance also decreased on Friday.
The Tamenglong district administration has relaxed the curfew from 6 am to 10 am for all essential commodities services.
The district has reported 208 positive cases, of which 190 have recovered and released from COVID-19 care centre. The remaining 18 positive cases patients are reportedly healthy while eight positive patients are lodged at Tamenglong higher secondary school covid care centre. The other 10 positive patients are staying in the state capital covid care facility.
Returnees continue to arrive and Tamenglong has 63 returnees at three different Community Quarantine Centres at Tamenglong district headquarter.
IFP Moreh correspondent has reported that the international border town remains under total lockdown for the second day. All the business establishments, shops and markets remain closed. Movement of any type of vehicle was prohibited.
Under the supervision of SP Tengnoupal Th  Vikramjit, police and CDO team kept surveillance inside the town. Additional SP(ops) M Amit singh; additional SP(law and order) Sangboi Gangte; OC Moreh Police station Kh Dilipkumar and other officials of 8 MR are on duty to check curfew violators in the town. Police patrols used mic to alert the public to remain at home, use of masks and social distancing in the locality.
A second COVID-19 patient, non local who is a returnee from Bihar, has been admitted at Moreh Hospital covid care centre. He is a returnee from Bihar and was quarantined at Saivom Primary school quarantine centre. As his test result came positive, he was admitted to Moreh hospital covid centre for further treatment. Two patients have been admitted at Moreh hospital so far.
According to a release from COVID-19 Common Control Room, the 31 fresh cases include 11 each from 37th AR, Jiribam and Imphal West, five from Thoubal, two from Ukhrul and one each from Churachandpur and Imphal East. 
"Altogether six individuals including four from Thoubal and two from Imphal West are cases without significant outside state travel history. All the rest are returnees from other states," it stated.
Meanwhile, 31 more persons were discharged after they were found COVID-19 free on RT PCR test. The cumulative number of active cases is 655 and 1,491 are recovered cases. The recovery rate is 69.47 per cent, it added. 
First Published:
July 25, 2020, 7:41 a.m.